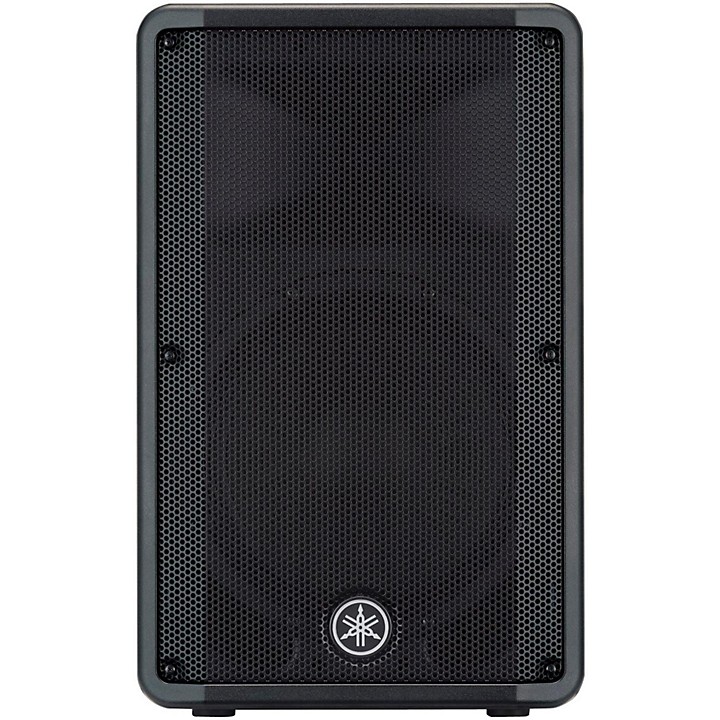 Lightweight and powerful.
Yamaha's powered speaker offerings now include the DBR Series, The most portable powered loudspeakers Yamaha has to offer, the versatile DBR Series harnesses the same state-of-the-art Yamaha DSP and amplifier and speaker technologies developed for the professional DSR Series and DXR Series lineups, ensuring high-resolution sound at any output level. The DBR 12 features a 12" LF driver and a 1.4" ferrite HF driver with a 1" throat. It packs a powerful 1000W Class D amplifier and does it all while weighing in at less than 35lbs. The cabinet is ergonomically designed for easy transport and the sound is pure Yamaha.

High-Efficiency 1000W Class-D Amplifiers
The DBR's lightweight, high performance Class-D amplifier produces 1000W of power, achieving an SPL of 131dB, delivered with remarkable clarity and dynamic characteristics.

Custom Designed Transducer
The high power output woofers deliver well-defined, powerful bass with minimal distortion, while the 1.4" precision compression driver produces accurate mid-range and high frequencies.

A Rugged, Highly Portable Cabinet
DBR Series speakers feature a compact, lightweight, and durable plastic cabinet which offers the highest level of portability of all Yamaha powered speakers. The sleek steel grille bolsters cabinet durability and protects the internal components while a newly designed ergonomic handles provide effortless transportation and system setup.

Easy-to-use Onboard 2-Channel Mixer
DBR Series speakers have two input channels. CH1 has a combo jack which accepts both XLR and TRS Phone allowing for either Mic or Line level input signals. CH2 offers two input options; a combo jack that accepts XLR or TRS Phone, and an RCA pin jack for input from CD players or other stereo line-level sources. The onboard mixer allows you to select either CH1+2 MIX to mix the signal of CH1 and CH2, or CH1 THRU to pass the signal from CH1 only.

Smart Enclosure Design for Floor Monitoring
DBR Series speakers feature an optimized 50wedge angle for floor monitoring.

Rigging Points for Installation Applications
DBR loudspeakers come equipped with M8 rigging threads, allowing for rigged applications with optional speaker brackets or standardized eye-bolts.

Specifications
Type: 2-way, Bi-amp powered speaker, Bass-reflex type:
Frequency range (-10dB): 52Hz - 20kHz
Nominal coverage, H: 90, V: 60
Components: Diameter:12" cone, Voice Coil:2", Magnet:Ferrite
HF: Diaphragm:1.4", Type: 1" throat compression driver, Magnet:Ferrite
Crossover: 2.1kHz: FIR-X tuning (linear phase FIR filter)
Output power: Dynamic:1000 W (LF: 800 W, HF: 200 W) / Continuous: 465 W (LF: 400 W, HF: 65 W)
Maximum output level (1m; on axis): 131dB SPL
I/O connectors: INPUT1: Combo x1, INPUT2: Combo x 1 + RCA pin x 2 (Unbalanced), OUTPUT: XLR3-32 x 1 (CH1 Parallel Through or CH1+CH2 Mix)
Processors: D-CONTOUR: FOH/MAIN, MONITOR, OFF
Heat dissipation: Fan cooling, 4 speeds
Power requirements: 100 V, 100-120V, 220-240 V, 110/127/220V (Brazil), 50/60Hz
Power consumption: 74W(1/8 Power Consumption), 18W(Idle)
Cabinet material: Plastic
Finish: Black
Handle: Side x 2
Flying and mounting hardware: Bottom x 2, Rear x 1 (Fit for M8 x 15 mm eyebolts)
Pole socket: 35mm (Bottom x 1)
Dimensions: 376mm (14.8")
H: 601mm (23.7")
D: 348mm (13.7")
Net weight: 15.8 kg (34.8 lbs)
Accessories: BBS251, BCS251, BWS251-300, BWS251-400 (Optional Speaker bracket)
Features
Speaker configuration
Active/passive: Active
Type: Two-way full range
LF driver: 12"
MF driver: N/A
HF driver: 1.4" ferrite driver
Power
Amplifier class: D
Wattage: 465W RMS, 1000W peak
Mixer/preamp: 2 Channel
Audio
Frequency response: 52Hz - 18kHz
Coverage pattern: 90 x 60
Max SPL: 131 dB
Inputs
XLR: 2 XLR/TRS
TRS:
TS:
RCA:
Output/thru
XLR: 1 mix output
TRS:
TS:
RCA:
SPEAKON:
Enclosure
Cabinet material: Polypropelene
Width: 14.7"
Height: 23.7"
Depth: 13.7"
Weight: 34.8 lb.