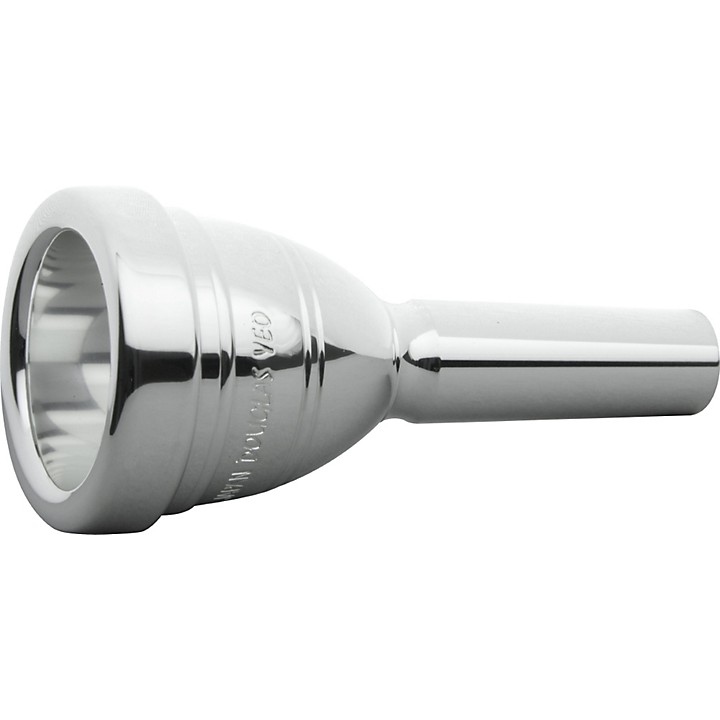 Get a replica of the mouthpiece of master bass trombonist Douglas Yeo.
The Douglas Yeo Replica Series mouthpiece features a large, symphonic size cup for a big, rich sound. It is characterized by a full, centered tone with a focused core; a brilliant, well-defined overtone series; and an even response in all registers and dynamics. It combines the best aspects of large, symphonic style mouthpieces with an ideal amount of outer mass and a carefully designed backbore and throat for improved high range and dynamic flexibility. Silver-plated.

As Doug explains: "This mouthpiece is designed for the player who wants a big sound as well as flexibility. While I do most of my work on the bass trombone as a member of the Boston Pops Orchestra, I also enjoy giving recitals, playing in church, and doing jazz and commercial work. The mouthpiece works well in all of those situations. I insisted on a centered, solid sound that would sound good at 5, 50, and 500 feet. And it goes without saying that I wanted a mouthpiece that would play evenly and in tune in all registers. When I say I play this mouthpiece all the time in the Boston Symphony, I mean it-I use nothing else. Whether it be Brahms, Mozart, Beethoven, Mahler, Schumann or Berg, this mouthpiece simply works. I'm confident that if anyone tries this new mouthpiece, it will be the last one they buy."

Yamaha's Replica Series mouthpieces come after year of collaborating with hundreds of the world's best players at their R&D Ateliers. These players were unsatisfied with the commercial models out there and knew the Yamaha technicians would deliver exactly the tone and response they wanted. The demand for these mouthpieces has grown, so Yamaha decided to offer a select lineup. Each Replica Series mouthpiece is produced on a precise, computer-controlled lathe to guarantee each one is exactly the same as the one used by its namesake.

Features
28.72mm inner diameter
Semi-flat contour
Semi-thin
Semi-deep cup
8mm throat
Semi-wide backbore
Silver-plated