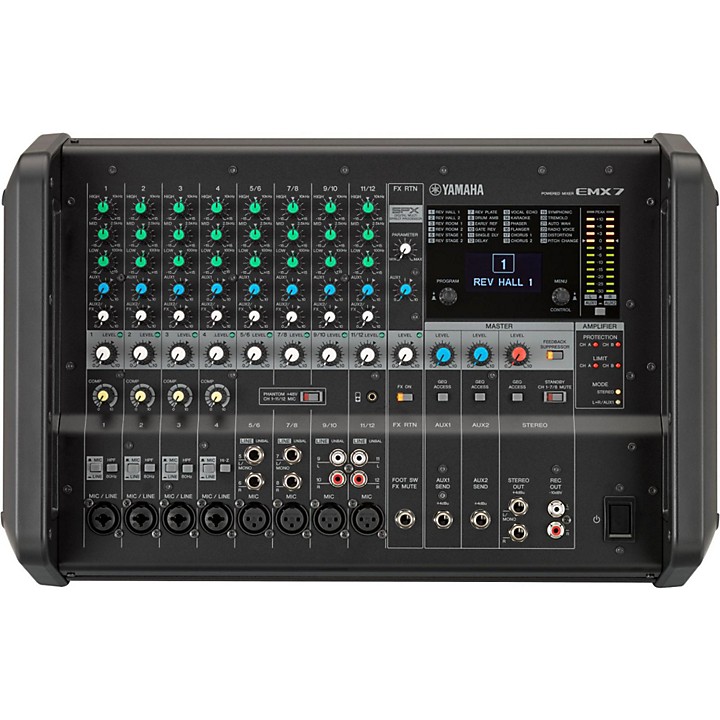 High capacity, high output.
The EMX7 powered mixer was designed for musicians, performers or public speakers who put a premium on sound quality and convenient operation, and are ready to take their sound reinforcement to the next level. Add speakers and a microphone and you have a fully functioning, extremely portable and reliable sound system with all the tools you need to mix, process and deliver your audio just the way you want, anywhere you want.

Class-D Amplifier
The EMX7 features a built-in high-efficiency power amplifier of 2 x 710W of output power. Despite its low power consumption, this amp is capable of very high volume output, yet still remains surprisingly lightweight. It is equipped with onboard overload protection function to improve reliability and prolong component life and performance quality.

Complete Range of Input & Output Channels
The EMX5 is equipped with four mono input channels and four mono/stereo input channels, allowing up to 8 microphones and line-level devices, such as keyboards and portable playback device to be connected to each channel. In addition, channel 4 can be used with Hi-Z inputs to connect instruments such as guitars or basses directly. It is also equipped with 2 AUX SEND connections for a monitoring system or external effect devices, REC OUT unbalanced RCA pin output jacks to connect an external recorder, and STEREO OUT TRS phone jacks to output the mixed stereo signal.

Onboard Feedback Suppressor
EMX7 is equipped with a Feedback Suppressor that utilizes a unique Yamaha digital technology to instantly eliminate annoying feedback with the single switch of a button, which utilizes a seven-band notch filter.

Speaker Processor and Preset
The speaker processor function allows you to select an appropriate setting to match the particular speakers you're using. It features presets specifically tuned for each model in Yamaha's extensive lineup of passive speakers, including CBR, Club, A and R series. This allows users to optimize speaker performance and save even more time during system setup. It also includes a bass boost function that can be enabled to significantly bring out the lower frequencies.

3-Band Equalizer Control
With individual knobs you can adjust the [HIGH], [MID] and [LOW] audio frequencies. You can operate instantly turning the control to amplify (boost) and attenuate (cut) the corresponding frequency band.

1-Knob COMP
EMX5 is equipped with the popular 1-knob COMP function used in MGP and MG series models. By simply operating a single control, it is possible to get optimal compression for vocals and instruments. As the [COMP] control is turned to the right, the threshold, ratio and output gain are adjusted simultaneously.

Comprehensive, Professional Effects and Signal Processing
EMX7 is equipped with a powerful, comprehensive DSP section that provides a total of 24 different effects that are in the same league as Yamaha's famed SPX effect processor series used by professionals. It is possible to add reverb and delay effects that simulate the sound of different performance environments, such as concert halls and small clubs.

Features
Format
Analog/digital: Analog
Number of channels: 12
Busses/groups: 2
Aux sends: 2
Powered: Yes, 1,420W
Inputs
Total inputs: 12
Mic preamps: 8
XLR/TRS combo jacks: 4
XLR only jacks: 4
1/4" only jacks: 4
S/PDIF in: No
ADAT/optical in: No
RCA in: 2 Stereo pair
USB: No
Outputs
Total outputs: 2 St, 2 AUX, RCA
RCA (unpowered) 1 Stereo pair
1/4" out: 2
FireWire No
ADAT/optical out: 0
SpeakION 2
USB: No
Other Connectivity
Connections: Audio
MIDI I/O: No
Headphone output(s): 1
Wi-Fi No
Word-clock I/O: No
I/O expansion: No
Onboard effects
Compression: Yes
Reverb: Yes
Delay: Yes
Chorus/flange: Yes
Equalization
Type: Shelving
EQ bands: 3
Master graphic: No
Other
Width: 18.25"
Height: 12.1"
Depth: 12.75"
Weight: 20.9 lb.
Automation: No
Fader type: Rotary
Motorized faders: No
Bundled software: No
Rackmountable: Yes