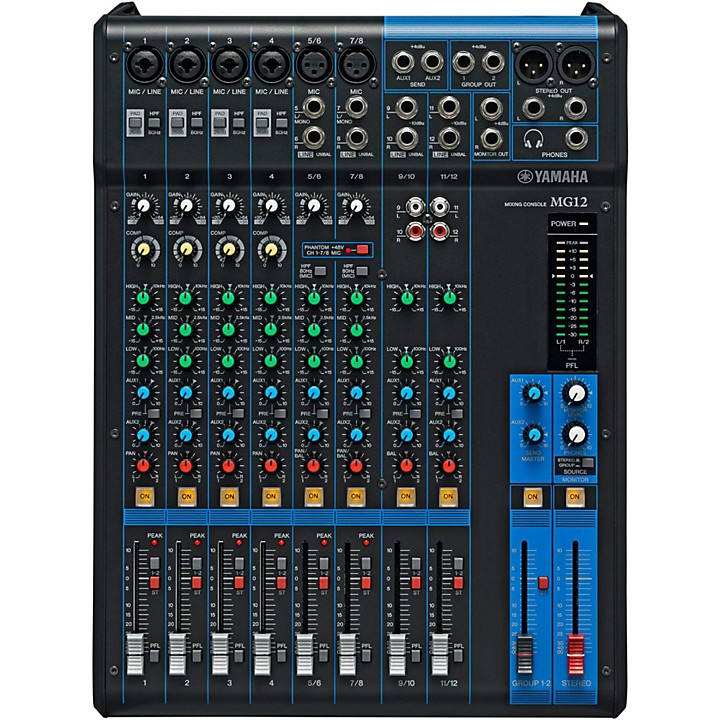 High quality mic preamps, compression and processing.
Now in its third incarnation, the MG Series embodies the pursuit of design excellence, and incorporates some of the same technologies developed for use in high-end professional consoles, including studio-quality preamps, powerful digital processing, and a rugged, reliable construction. The Yamaha MG12 is a 12-Channel Mixing Console with six mic (XLR hybrid) and 12 Line Inputs (4 mono + 4 stereo), two GROUP Buses + one Stereo Bus, and two AUX sends.

With an intuitive, easy-to-use interface, the MG Series boasts an extensive lineup of compact mixing consoles with models ranging from six to twenty channels, suitable for a diverse range of users and applications. For installed, recording, or live music settings, the solid construction and flexible design of these consoles lets you shape your sound with confidence, continually delivering peak performance and a level of sound quality and reliability unrivalled in its class.
Specifications
On-board processors : SPX algorithm: 24 programs
Phantom power: +48 V
Input Channels: 12 Mono[MIC/LINE], stereo[LINE]: 4
Output Channels: STEREO OUT: 2
MONITOR OUT: 1
PHONES: 1
AUX SEND: 1
Bus: Stereo: 1, GROUP: 4, AUX[FX]: 4
Input Channel Function
PAD: 26 dB (Mono)
HPF: 80 Hz, 12 dB/oct (Mono)
COMP: 1-knob compressor Threshold: +22 dBu to -8 dBu, Ratio: 1:1 to 4:1, Output level: 0 dB to 7 dB, Attack time: approx. 25 msec, Release time: approx. 300 msec
EQ HIGH: Gain: +15 dB/-15 dB, Frequency: 10 kHz shelving
EQ MID: Gain: +15 dB/-15 dB, Frequency: 2.5kHz peaking
EQ LOW: Gain: +15 dB/-15 dB, Frequency: 100 Hz shelving
PEAK LED: LED turns on when post EQ signal reaches 3 dB below clipping
Level Meter: 2 x 12 -segment LED meter [PEAK, +10, +6, +3, 0, -3, -6, -10, -20, -25, -30 dB]
Features
12-Channel Mixing Console
Max. 6 Mic / 12 Line Inputs (4 mono + 4 stereo)
2 GROUP Buses + 1 Stereo Bus
2 AUX (incl. FX)
"D-PRE" mic preamps with an inverted Darlington circuit
1-Knob compressors
PAD switch on mono inputs
+48V phantom power
XLR balanced outputs
Internal universal power supply for world-wide use
Optional Rack Mount Kit RK-MG12 Available
Metal chassis