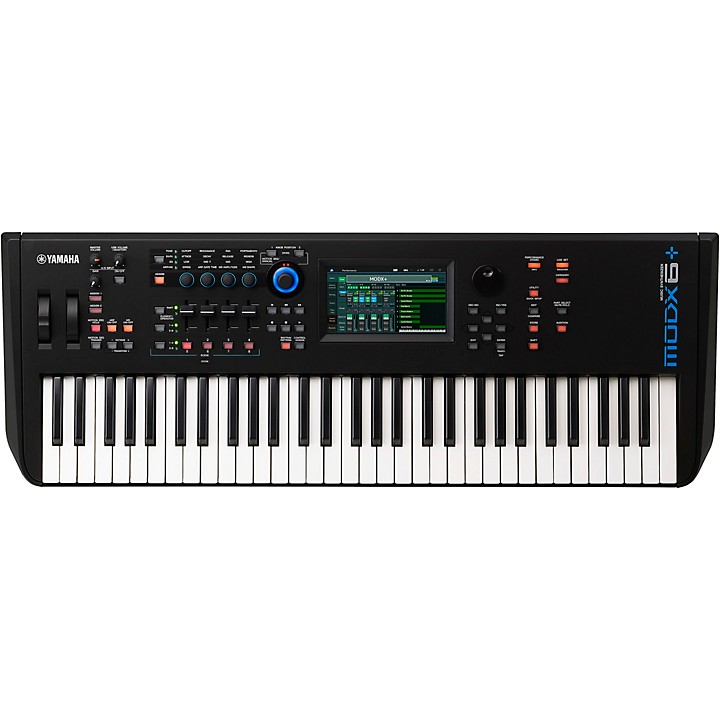 Compact synthesizer designed to give you control of your sound.
The Yamaha MODX6+ is the smallest and lightest keyboard in the MODX+ series. Designed for synth players, MODX6+ offers a wide range of sound design capabilities, thanks to its 8-operator, fully programmable FM-X engine with up to 128-note polyphony (double the original MODX). The MODX6+ features 61 semi-weighted, synth-action keys that are perfect for banging out blazing leads and solos. Like the rest of the MODX+ series, MODX6+ gets its power from the same technology found in the flagship MONTAGE keyboard, combining Yamaha's AMW2 (Advanced Wave Memory 2) technology, and the advanced synthesis capability of FM-X (Frequency Modulation). Together, these two iconic sound engines provide an impressive palette for playback and complex sound design. If you're looking for cutting-edge technology in a 5-octave synth, the Yamaha MODX6+ might be the perfect instrument for you.
Combine Samples and Synths
The MODX6+ sound is derived from the same technology powering the flagship MONTAGE—Yamaha's AWM2 (Advanced Wave Memory 2) sample-based engine and the FM-X (Frequency Modulation) synth architecture. This unique mixture results in stunning emulative acoustic instruments, synthesized sounds, drums and more. AWM2 technology allows for a large amount of data compression without sacrificing sound quality, resulting in unparalleled, realistic sound reproduction. On the other hand, the FM-X engine is a highly sophisticated form of synthesis capable of producing awe-inspiring sounds with remarkable dynamic range and unprecedented power and fidelity. Together, AWM2 and FM-X give you the ability to create an impressive array of sounds that have never been heard before.
Add Movement to Your Sound
The real performance power of the MODX6+ series comes from its Motion Control technology, putting rhythmic and dynamic control at your fingertips for a unique, personalized sound. The Super Knob allows simultaneous control of up to 128 parameters in a single Performance. This means you can control nearly anything from mix functions like volume, pan and effect sends to detailed synth parameters like filters, LFOs and operators. Motion Sequences are tempo-synchronized, completely customizable control sequences that can be assigned to virtually any synthesizer parameter and provide incredible new ways of creating sound.
Ready for the Road
Taking a page from the MONTAGE series, MODX6+ keyboards have an extraordinary amount of power and features, but the difference is in its form. MODX6+ has a modern design that's considerably lighter, making transport easier and load-in a breeze. If you're looking for a lightweight keyboard that can travel easy, but you're not willing to sacrifice sound and performance features, then MODX6+ is the right keyboard for you. Let MODX6+ empower your creativity and inspire your music.
Specifications
Keys: 61
Keybed: Weighted action
Polyphony: 256 notes (128 AWM2 + 128 FM-X)
Internal Flash memory: 1.75GB
Weight: 14.6 lb.
Features
61-note semi-weighted keybed perfect for synth players
Motion Control Synthesis unifies and controls AWM2 and FM-X sound engines
256 notes total polyphony (128 AWM2 + 128 FM-X)
1.75GB internal Flash memory
Super Knob controls multiple parameters simultaneously
Send 10 and receive four audio channels, plus 16 channels of MIDI, via a single USB cable
Live Sets allow Performance organization without copying, changing order or renaming
Four-part seamless sound switching—change Performances while holding notes without sound or effect cutoff
Motion Sequences drive synthesizer parameters through rhythmic control data you can interact with in real time