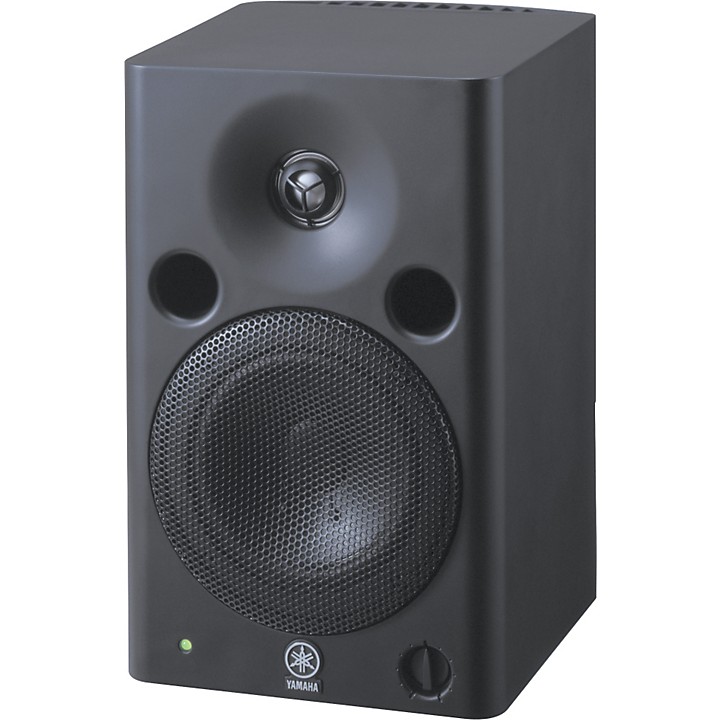 The next generation of studio-standard monitors from Yamaha.
The Yamaha MSP5 STUDIO 5" powered studio monitor is a two-way bi-amplified bass reflex speaker system that delivers outstanding monitoring precision for digital or analog production in stereo or surround formats. The more compact dimensions of the MSP5 STUDIO make it an ideal monitor choice for smaller project studios and DAW-based production systems. The MSP5 STUDIO features a 5" cone woofer driven by a 40-watt amplifier and a 1" dome tweeter driven by a 27-watt amplifier. The woofer and titanium-dome tweeter feature advanced magnetic structures that achieve exceptionally low distortion, and the tweeter works with a unique waveguide horn that achieves broad, uniform high frequency dispersion over 120 degrees for optimum balance regardless of listening position. Advanced driver and enclosure design—including the low-diffraction rounded baffle—also ensure smooth, uniform dispersion across the system's full reproduction range. Flat frequency response out to 40kHz makes the MSP5 STUDIO great for mastering, where high sample and bit rates are the norm.

Magnetically Shielded Enclosures
Along with their compact size and excellent performance, full magnetic shielding allows the MSP5 STUDIO speakers to be positioned near all types of audio, video and computer equipment without sound degradation or negative effects on surrounding equipment.

Professional Connectivity
The MSP5 STUDIO has a balanced XLR type input for direct compatibility with professional equipment. Balanced lines are ideal if the speakers are to be placed at the end of long cable runs which, if unbalanced, might be susceptible to hum and induced noise. The MSP5 STUDIO also offers an unbalanced 1/4" phone jack connector.
Specifications
Type: Biamp 2-way powered speaker
Crossover Frequency: 2.5kHz LF: 24dB/oct, HF: 24dB/oct
Overall Frequency Response: 50Hz–40kHz (-10dB)
Maximum Output Level: 101dB, 1 m on Axis
Dimensions (WxHxD): 7-1/16" x 11" x 8-3/16" (179 x 279 x 208 mm)
Weight: 17.41 lb. (7.9 kg)
Magnetic Shielding: Yes
Low frequency driver: 5" cone
High frequency tweeter: 1.0" Titanium dome
Enclosure Type: Bass-Reflex
Material: PP
Output Power: LF 40 W THD = 0.02 %, RL = 4 Ohms; HF: 27 W, THD = 0.02 %, RL = 6 Ohm
S/N, IHF-A filter: 94dB, LEVEL = Max
Input Sensitivity: XLR-3-31+4 dBu, LEVEL = Center -6 dBu, LEVEL = Max ; -10 dBu, LEVEL = Center -20 dBu, LEVEL = Max
Input connector: XLR-3-31 (balanced), 10k Ohms, Phone (unbalanced) 10kohms
Controls
Level: Control 31 positions detent type VR
High trim: +1.5/0/-1.5dB at 15kHz
Low trim: +1.5/0/-1.5/-3dB at 60Hz
Power: Switch on/off
Indicators: LED Green Power on
Red: Clipping Red
Power Consumption: 60W
Features
2-way bass-reflex bi-amplified near field studio monitor
5" cone woofer and 1" titanium dome high-frequency unit delivers 50Hz-–40kHz frequency response
67-watts (LF 40W + HF 27W) dynamic bi-amplified power
XLR balanced input and 1/4" unbalanced input
31 positions Level Control facilitates precise overall system level matching
TRIM Control (High/Low)
Full magnetic shielding