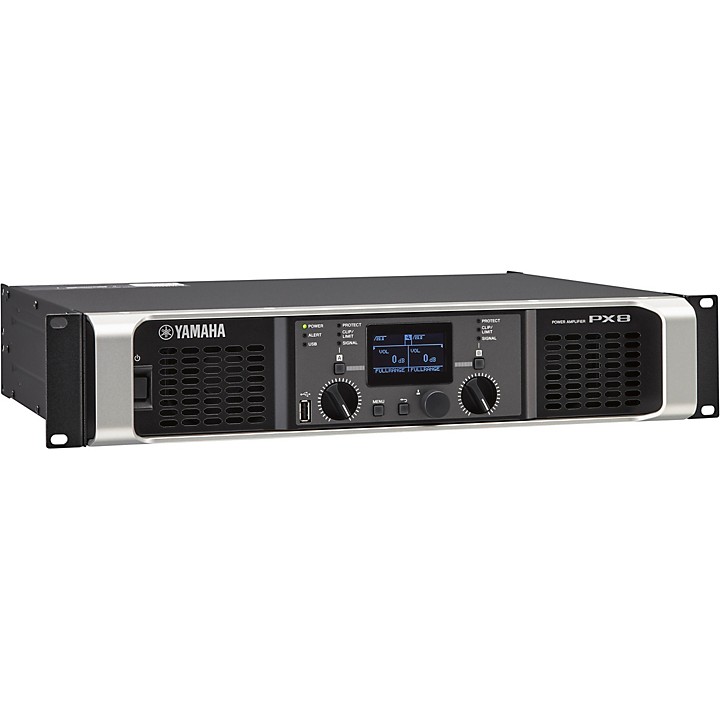 Class-D amplification with onboard PEQ and delay.
This advanced power amplifier combines intelligent processing with high output to meet the requirements of a vast range of sound reinforcement environments. Boasting 800W x 2 at 8 ohms and 1050W x 2 at 4 ohms, the PX8 has plenty of punch to satisfy your power needs, along with advanced features that will make your life easier at your next event. Most notably, this little powerhouse delivers onboard equalization and settings for delays and crossovers—a huge bonus if you care about producing the best sound possible, but don't care much for lugging extra gear.

The Yamaha PX8 dual-channel amplifier is driven by a newly developed Class-D amplifier engine that concentrates all the necessary functions into a single custom LSI chip, and uses PLL technology to control transfer characteristics in real time, achieving impressive sound quality and power. This new single-chip architecture offers higher output and improved performance in a more lightweight, yet reliable design. A combination of cutting-edge technology and an exhaustive component selection process make PX Series amplifiers supremely efficient amplifiers with low noise, reliable protection features, and above all, outstanding sound quality.

DSP for audio processing
Amp Mode allows the user to configure the system without difficulty by selecting the input routing and output routing. A total of 15 types of patterns can be selected. - Input routing (Dual/Parallel/Single/SUM)- Speaker System Structure (FULL+FULL/SUB+SUB/FULL+SUB/Bi-Amp/Boost Full/Boost Sub)

Sophisticated Signal Processing
The PX8 comes with flexible onboard crossover, filters, delay, limiter and PEQ (fixed preset) functions as standard, allowing quick and easy system setup via the LCD display, without the need for any additional outboard gear. It also features Yamaha's intelligent D-CONTOUR multi-band dynamic processing, allowing users to achieve consistent clarity and high-quality sound for either front-of-house or monitor configurations.

Easy, Intuitive Setup
To accommodate users with varying levels of sound reinforcement experience, the PX8 offers both Basic and Advanced setup modes. Basic mode allows even inexperienced users to easily configure a system that meets their needs, while Advanced mode offers experienced users more precise control over every aspect of their sound. The PX8 also features eight programmable presets for instant recall and reduced setup time that can be saved to a USB thumb drive and shared with other PX amplifiers.

Flexible Connectivity, Durable Construction
Equipped with both XLR and TRS inputs, and binding post, SpeakON and phone outputs, the Yamaha PX8 offers the flexibility needed for a variety of setups and environments, and the durability to stand up to extended road-use thanks to the sturdy chassis and carrying handle design.

Power Boost Mode
The PX8 also comes equipped with a Power Boost Mode that combines the power output from two channels into one, achieving significantly higher single-channel power levels to drive high power handling speakers when needed.

Smart Config Wizard
The Config Wizard allows users to save even more time during system setup by assigning optimized speaker settings that match your system configuration– simply select the appropriate filter and crossover for each speaker, and Config Wizard will do the rest. Config Wizard also features presets specifically tuned for each model in Yamaha's extensive lineup of passive speakers, including the popular CBR, Club, Installation, and VXS/VXC series, and an advanced mode that allows more detailed configuration of parameters such as input routing, input sensitivity, amp gain, and speaker impedance.

Utilities for Safe and Secure Operation
The PX8 dual-channel amplifier makes it fast and easy to configure panel settings, monitor amplifier status, and transfer data via USB, and also feature a panel locking function to keep your settings safe. Users can even export information such as internal device and log data to USB for rapid troubleshooting should difficulties arise.


Features
Dual-channel power amplifier

Redesigned Class-D engine with a custom LSI
800W x 2 at 8 ohms; 1050W x 2 at 4 ohms
Onboard PEQ and settings for delay and crossover
Utilities for safe and secure operation