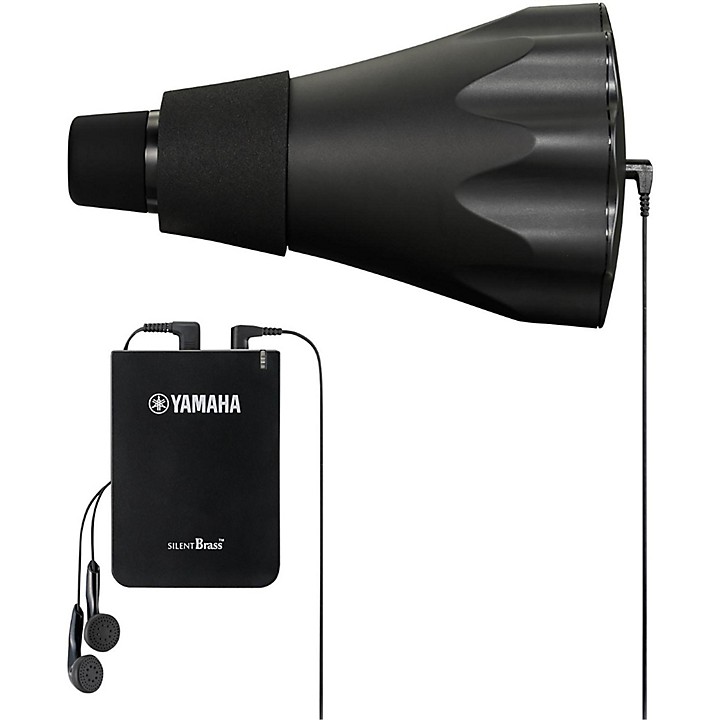 A popular design for French horn practice anywhere, any time.
You want to play when and where you like without being confined to time or place. Well, Yamaha's next generation SILENT Brass makes it happen. The new SILENT Brass consists of a smaller, lighter, free blowing Pickup Mute, and the Personal Studio, which features Yamaha's exclusive Brass Resonance Modeling. Used together, the two deliver the natural acoustic tone you hear when playing without a mute, making it feel as though you are playing mute free.

Pickup Mute
The Pickup Mute combines a high-performance mute with an internal microphone to pickup sound. Significantly smaller and lighter than previous versions, the mute offers superior muting performance, delivers excellent intonation over a wide pitch range, and natural playability. A new compact design now lets you put your instrument in its case with the mute in the bell.

Brass Resonance Modeling
The SILENT Brass features Yamaha's proprietary technology, which uses the modeling of non-muted brass instruments to correct your instrument's tone when the Pickup Mute is in place. The resulting sound is so realistic, it's hard to tell whether the instrument is muted, or not.

The SILENT Brass Offers More Enjoyment
Connect the output from an audio player, smartphone, etc. to the AUX IN jack on the Personal Studio and enjoy playing along with your favorite recordings or "minus one" practice aids. The PHONES jack can also be used as an output jack for recording what you play.

Features
Model: PM3X
Dimensions (dia. x L): 129 mm x 216 mm (5-1/16" x 8-1/2")
Weight: 195 g (6.9 oz.)
Internal microphone: Electric condenser microphone
Pickup output jack: Mini phone jack
Nominal level: -25dB~-35dB
Brass Resonance Modeling: Yes
Personal Studio
Model: STX-2
Dimensions (WxDxH): 70 mm x 20 mm x 98 mm
Weight: 2.4 oz. without batteries
Jacks/Terminals: MUTE IN, AUX IN, PHONES
Control: VOL. (volume), Reverb type, Power ON/OFF
Brass Resonance Modeling: Yes (It behaves correctly only when compatible X-series Pickup Mute is connected to Personal Studio.)
Power Supply: AA alkaline or nickel-metal hydride batteries x 2 (3V DC)
Included Accessories: Cable, Stereo Earphones, Owner's Manual