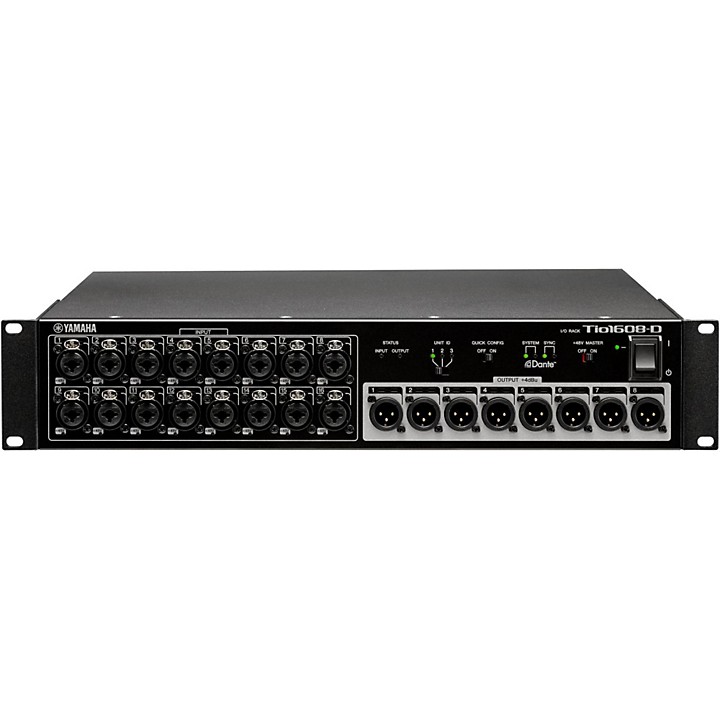 Your hub for digital mixing.
The Tio1608-D is a Dante-equipped I/O rack with 16 microphone/ line inputs and 8 line outputs. Tio racks feature the same recallable D-PRE™ preamplifiers as the TF series, delivering extraordinarily natural and musical sound. In combination with TF series consoles, Tio racks can be connected using up to three units with a fast and easy setup.
Users wishing to expand on the TF's already extensive input/output capability can easily add up to 3 units with the optional NY64-D expansion card and Tio1608-D I/O racks. Daisy-chaining the main console offstage and Tio1608-D I/O racks on stage using lightweight CAT5e Ethernet cables allows low-latency, high-quality sound transmission without the time-consuming transport and setup of bulky analog snakes.
By enabling the QUICK CONFIG mode on the Tio1608-D, all the connection settings such as network settings and audio patching are set automatically making system configuration easy. After confirming QUICK CONFIG mode is activated on the TF console and Tio racks, simply set a UNIT ID for each Tio1608-D, then daisy chain the TF console and the Tio racks. Turn on the power and you're ready to go!
Once the basic configuration is completed you can easily assign inputs to best suit your system setup. By using the ALL INPUT function, users can assign all inputs to the Tio racks, the TF console or a PC/Mac device instantly. Users can also change each input to receive signal from multiple locations so that users can effectively use all inputs.
The Tio1608-D inherits the natural, musical sensibility that we pursued in the development of the TF Series. Mechanical construction, circuit board layout, power supply, grounding, and parts selection have all been executed with meticulous attention to detail and quality, combined with exhaustive performance and listening tests at each stage of development. The Tio1608-D features the same recallable D-PRE microphone preamplifiers as the TF Series to provide a consistent, natural, musical sound throughout the entire system.