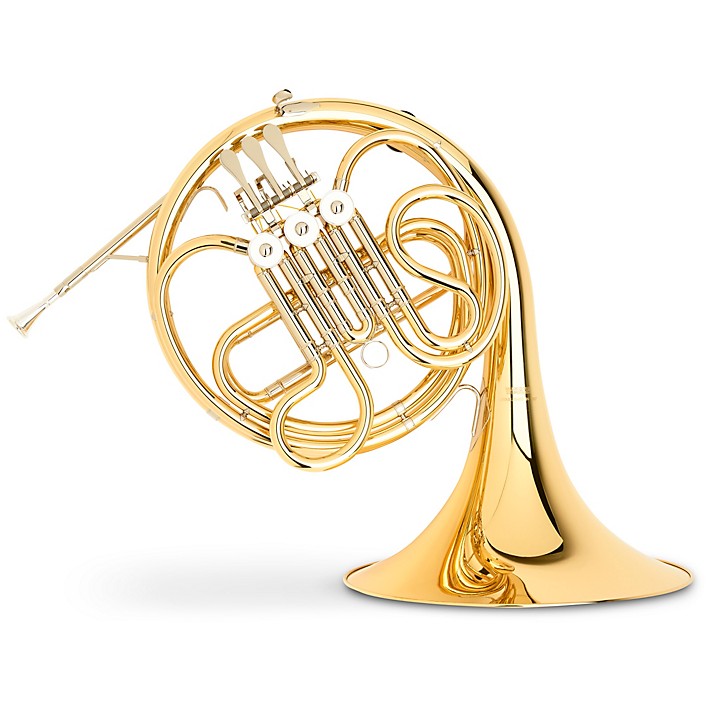 A student horn tailored for learning fundamentals.
The Yamaha YHR-314II student F French horn is designed to nurture developing musicians. Its tapered gold brass mouthpipe and balanced 12-1/8" yellow brass bell make the YHR-314II comfortable to hold and responsive to play. The string linkage and nickel silver slides operate quietly and smoothly. The YHR-314II's lightweight yet durable brass body will withstand years of regular use. This single F horn's clear lacquer finish and focused tone are ideal for learning proper technique and breath control.


Responsive Mouthpipe Encourages Good Habits
The YHR-314II's tapered gold brass mouthpipe provides the right amount of breath resistance for students to develop a centered, supported tone. Its responsiveness rewards good playing habits and accurate articulation, helping beginners establish solid fundamentals. The mouthpipe's design also improves the YHR-314II's intonation for an instrument at this price point.


Durable Build Quality Built to Last
Constructed from yellow brass and finished in clear lacquer, the YHR-314II is built to withstand regular use over many years. Its nickel silver slides and tapered valves are resistant to corrosion and leakage. The YHR-314II's string linkage operates quietly without the need for frequent adjustment. This durable, dependable build quality gives students an instrument they can grow with.


Focused Tone Nurtures Proper Technique
The YHR-314II produces a focused tone centered in the midrange that helps students develop proper breath control and embouchure. Its 12-1/8" bell is sized for good projection with minimal distortion. The .472" bore also contributes to the YHR-314II's focused tone by streamlining the flow of air through the instrument. This combination of design features helps beginners achieve a characteristic French horn sound as they build their skills.


Additional Features
The YHR-314II includes a redesigned, lightweight ABS case for safe transport and storage. It is available for purchase with a Yamaha 32C4 mouthpiece, though students may prefer a mouthpiece with a smaller inner diameter as their skills improve. A limited 5-year warranty provides coverage against manufacturing defects.

Order the Yamaha YHR-314II student F French horn today.
Specifications
Bell: 12" yellow brass bell
Bore: .472"
Key: F
Features
Mouthpipe taper designed for better response and intonation
Wrap allows easy hand position
Tough nickel silver inner and outer slides
Tapered valves
Rich, warm tone
Lightweight ABS case