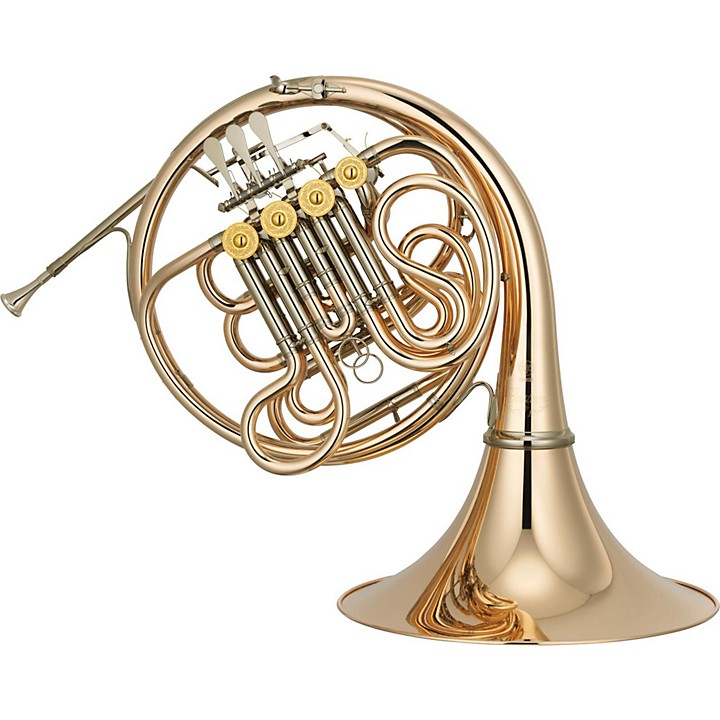 A beautiful and still practical full double.
This full double horn features a traditional Geyer-style wrap with a medium size bell and thicker rim wire. The tone is rich and deep with a solid core. A new gold brass leadpipe design contributes to consistent tone and playing feel throughout the instrument's range. This model features a .476" bore.

The inner tubes of all slides are made of gold brass to enhance the horn's tonal clarity and depth. The main tuning slide also has a rounded shape that provides ideal resistance for this class of instrument. The valve casing is made of Nickel silver for improved response and durability, and a hollow 4th rotor makes notable contributions to response and tone. The 4th valve trigger and pinky hook can be adjusted to the player's comfort and the Bb 2nd valve slide features a long pull ring for added convenience.

Engraved brass valve caps and a nickel silver bell screw enhance response, providing cleaner articulation and a well-defined core.

Features
Number of Valves: 4 rotary
Design/Architecture Detail
Lever Action: String
Bell Type: Detachable
Bell Size: M
Bore Size: 12.1mm (0.476")
Body: Yellow brass
Valve casings: Nickel silver
Key: F/Bb
Mouthpiece: HR-32C4