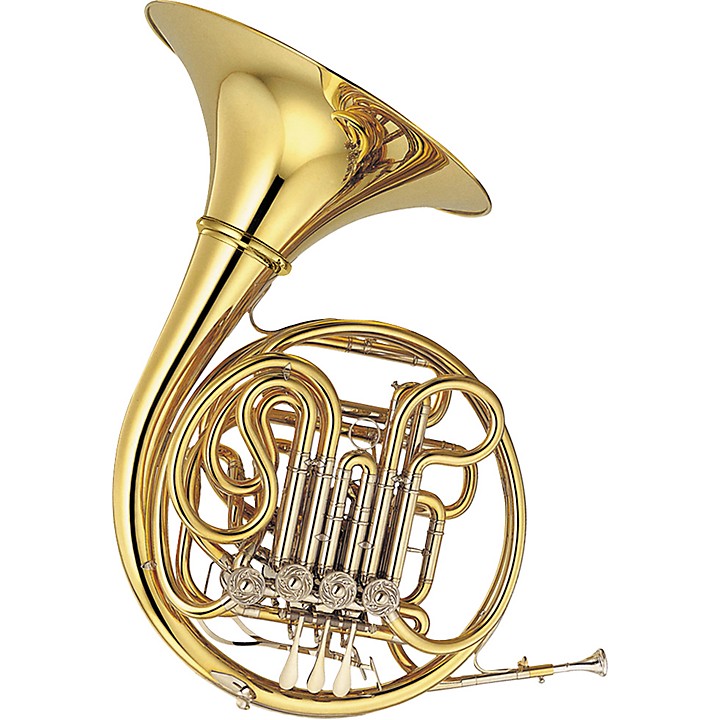 Triple Horn!
The combination of the secure high register and quick attack with the rich, warm timbre of the single Bb horn make the Triple horn ideal for many playing situations. This patented Yamaha design on the 4th rotor permits a unique tubing configuration and allows smooth, efficient transitions between the Bb and F horns.Hand-lapped rotary valves and slides
Rotary valves and slides that have been hand-lapped are airtight and have smooth action.Hammered and annealed bell
Hammering and annealing are processes so important to the instrument's acoustic characteristics that Yamaha employs computer-controlled equipment to ensure consistently superior sound. Hammering enables bells to have a rich, resonant tone that blends beautifully with other instruments. Annealing is a cooling and heating process that makes it easier to control the acoustics of the instrument.Phosphor bronze rotors
Rotors made of phosphor bronze resist corrosion.Cyclical bore
A cyclical bore is a perfectly cylindrical tubing assembly in combination with a conical mouthpipe and bell system. This allows for consistent air flow throughout the horn.Tapered valves
Tapered valves wear for a long time without air leakage.Long mouthpipe
The long mouthpipe delivers remarkably accurate and balanced intonation.Long rotor valve
The innovative thumb valve configuration on the YHR-891 replaces linked valves, thereby reducing friction, promoting faster response, producing exquisite sound, and improving hand comfort.Excellent intonation
The intonation problems normally associated with the triple horn have been eliminated.Ingenious valve tubing configuration
The combination of the long rotor valve, dual plane valve, and tubing configuration create a unique shape and size for the triple horn.
Specifications
Bore: .472"
Bell: 12" yellow brass bell produces a slightly bright and intense sound.
Availability: Special Order Only
Key: F/Bb/High F
Features
Key of F / Bb / High F
.472" bore
12.1" hand-hammered medium throat yellow brass bell
Mechanical linkage, dual plane 4th valve
Includes case and mouthpiece