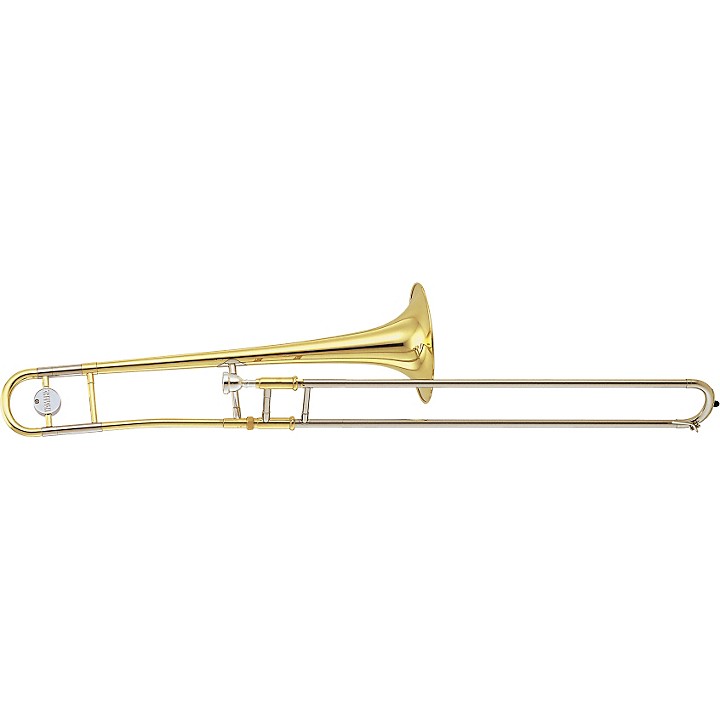 Yamaha's YSL-354 Series Student Trombone is an ideal starter instrument for aspiring trombonists. this tenor trombone delivers a full, balanced tone suited for all styles of music. Its durable design and comfortable playing experience make it perfect for students and beginners. The YSL-354 trombone offers premium features like a two-piece, 8" yellow brass bell, nickel silver inner slide for quick action, and detachable counterweight for customizable balance. With a .500" bore and choice of gold lacquer or silver plate finish, this trombone produces a bright, projecting sound while maintaining an attractive appearance.


Facilitates Proper Technique

The YSL-354 Series trombone helps students develop correct buzzing and playing technique. Its .500" bore generates a focused tone and comfortable wind resistance for beginners. The detachable counterweight allows each musician to adjust the trombone's balance to a natural playing position. A slide lock keeps the main slide in place when not in use.


Natural Playing Feel

With an 8", two-piece yellow brass bell and adjustable counterweight, the YSL-354 trombone feels balanced during long rehearsals and performances. Its design encourages good posture and playing technique, making it an excellent choice for students and beginners. The YSL-354's nickel silver inner slide also provides quick action for smooth transitions between slide positions.


High-Quality Components

Like Yamaha's professional models, the YSL-354 trombone features premium components. Its yellow brass outer slide includes a discrete water key, while the nickel silver inner slide offers smooth playability. The two-piece, 8" yellow brass bell projects a balanced tone for all musical applications. A choice of gold lacquer or silver plate finish gives the YSL-354 trombone a superior appearance and protects against wear.


Part of the Yamaha Standard Series

The YSL-354 trombone belongs to Yamaha's Standard Series of student brass and woodwind instruments. Drawing from Yamaha's professional designs, the Standard Series sets a new benchmark for entry-level instruments. The YSL-354 trombone provides students with a high-quality, reliable, and easy-to-play trombone to foster their musical development.


Specifications
Instrument Type
Type: Tenor Trombone
Tuning: Bb
Level: Student
Construction
Bore diameter: .500"
Leadpipe material: Yellow brass
Bell material: Yellow brass
Bell diameter: 8"
Body material: Yellow brass
Valve buttons: Not Applicable
Inner slide: Nickel silver
Valve type/construction: Not Applicable
Other
Finish: Clear lacquer
Country of origin: China
Case: Yes
Mouthpiece: Yes
Mouthpiece Shank: Small
Features
Available models YSL-354 in gold lacquer finish or YSL-354S in silver plate finish
Yellow brass outer handslide and nickel silver inner slide
Yellow brass bell
Includes molded case and 48S mouthpiece
Yamaha 5-year limited warranty