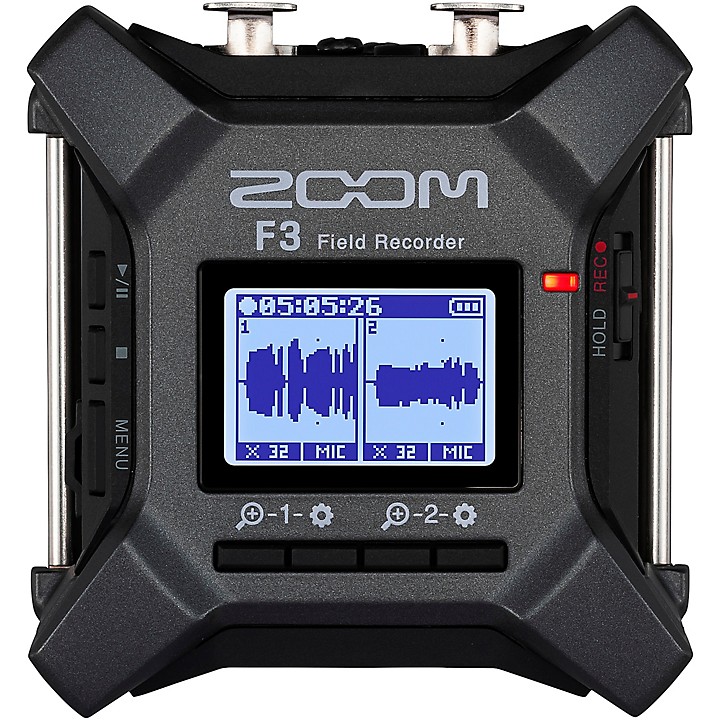 A well-equipped field recorder for long location shoots or remote fieldwork, with a variety of power options and massive storage.
With 32-bit float recording, the F3 MultiTrack field recorder from Zoom effortlessly captures the quietest raindrops and the loudest explosions. Its small footprint allows for this recorder to be placed anywhere, as you capture and monitor up to 192kHz of high-quality audio. When you're working in the field or on set, sound levels can fluctuate often and quickly. The F3 allows you to adapt to your scene without having to set the gain or worry about clipping. In post, you'll be able to work with your capture, regardless of extremely low or high levels. Featuring the dual A/D converters and low-noise preamps found in the Zoom professional F-Series recorders, the F3 guarantees high-quality recordings in any setting or situation. It is built with durable side bars, a standard tripod mount and slide-resistant rubber feet ensuring that you can mount it on your gear or hide it in any scene. Its sturdy metal casing and locking XLR connectors are designed for use in a variety of environments. Monitor your recordings with seamless accuracy as the F3 displays your audio as real-time waveforms and use the headphone output to keep an ear on your recordings. A line output enables you to go to your camera or other gear and two alkaline AA batteries help you take advantage of eight hours of battery life.
Specifications
Tracks: 2
Channels: 2
Inputs: 2
Float recording: 32-bit
Noise floor: −127dBu EIN
Sampling: Up to 192kHz
Stereo output: 1/8" phone/line jack
Hours of operation: 8
Required batteries: 2 standard AA or USB battery pack
Features
2-channel / 2-track field audio recorder
Featuring 32-bit float recording and dual AD converters for full dynamic range and clip-free audio capture
2 discrete inputs with locking XLR connectors
Input signals can be monitored with real time waveform display on LCD
Compact and Durable (can be attached to boom mic with Velcro)
High quality mic preamps provide a super-low noise floor (−127dBu EIN)
Record up to 192kHz sampling/32-bit float WAV format, mono or stereo files
Stereo 1/8" Phone/Line Output jack with dedicated Volume control
Records directly to microSDHC and microSDXC cards up to 1TB
Wireless iOS/Android remote control available through optional BTA-1 Bluetooth adapter (Android version to be released in Spring 2022)
Use as 2-in/2-out, up to 24-bit/96 kHz USB audio interface (Available in 32-bit float/ 96 kHz with a firmware update in Spring 2022)
Over 8 hours of operation with two AA alkaline batteries
Runs on only 2 standard AA batteries or AC adapter (AD-17) or USB battery pack
Wireless timecode synchronization (Optional BTA-1 Bluetooth adapter and UltraSync Blue device by Timecode Systems are required)
WARNING: Cancer and Reproductive Harm www.P65Warnings.ca.gov.