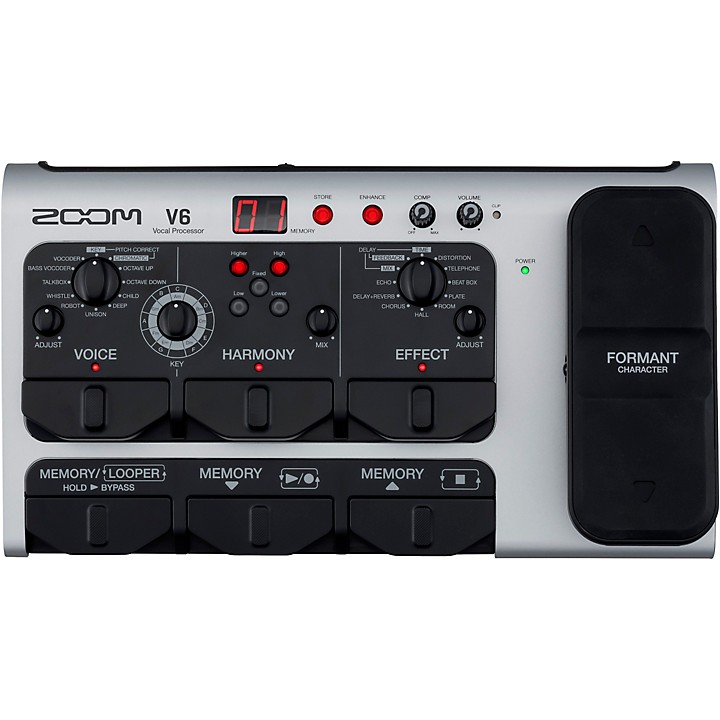 Comprehensive vocal processing in an easy-to-use floorboard design.
The Zoom V6-SP is a powerful, yet compact vocal effects processor that brings a full banquet of vocal effects, harmonies, formant characteristics and a looper to live gigs and studio sessions. Armed with the V6-SP, musicians, engineers and producers have access to an incredible array of signal-processing options, as well as the simultaneous use of the Voice, Harmony and Effect sections. You can simply augment your vocal with onboard compression, enhancement (de-essing, etc.) and a subtle wash of reverb and/or delay, or if you want to add something wild, the V6-SP also offers talk box, vocoder and robot effects. Pitch correction is available if you want to nail every note, and if your background singers can't make the gig, you can use your own voice to create up to two additional "vocalists" for three-part harmonies on demand.

Jump Right In
Every if you're new to arranging vocal harmonies, the V6-SP helps you dive right into crafting your own background choirs. The pedalboard layout is intuitive and easy to navigate, and there are 40 onboard patches already created for you in a number of styles and sounds. You don't even have to know a thing about harmonic intervals, because based on the key you choose, the V6-SP automatically creates perfect harmonies. It's like hiring the best vocal arranger and a pair of amazing harmony singers—except everything is in the V6-SP and ready to go. Once you know your way around the vocal processing, you can make your own patches and store them in 100 user-memory locations.

Change Characters
Inhabit different vocal characteristics with the formant pedal that can radically alter the resonance of your voice without changing its pitch.

Two Pitch-Correction Modes
Choose Key Pitch Correct, and the V6-SP takes any errant notes you might sing and processes them to the nearest pitch within the selected key. If you want a bit more freedom for blue notes and other ornamentations, select Chromatic Pitch Correct, and the V6-SP will shift your voice to the nearest chromatic pitch.

Enhance Your Vibe
Transform your vocal performances with voice effects such as Beat Box, Telephone, Robot and Vocoder, as well as studio sweetening that includes Delay, Reverb and Chorus.

Loop It
Join the looping revolution with the built-in looper on the V6-SP. You get up to three-and-a-half minutes of recording time to create, stack, and process vocal parts, harmonies and even mouth percussion and handclaps.

Features
Simultaneously use up to three vocal processors from the Voice, Harmony and Effect sections
Formant Shift pedal for adjusting your vocal character in real time
Looper with up to 3:30 of recording time
40 preset patches created by professional vocalists and audio engineers
WARNING: Cancer and Reproductive Harm www.P65Warnings.ca.gov.