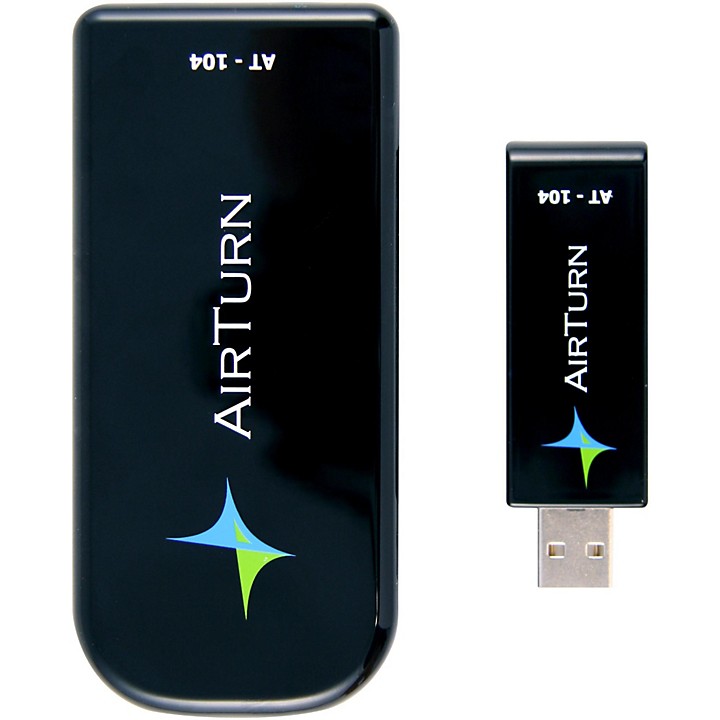 Affordable hands-free solution for turning virtual sheet music on a Mac or PC.
This AirTurn pedal kit comes with the AirTurn AT-104 Transmitter, Wireless USB Receiver, two Boss FS-5U footswitches, and two patch cables to connect the transmitter and pedals. Simply plug the cables into the transmitter and the jack of the ATFS-2 pedals, and the wireless USB receiver into a host computer's USB port, and you are ready for hands-free page turning.

AirTurn AT-104
The AirTurn AT-104 is a wireless page-turning transceiver for Windows PC computers. Ideal for musicians who need to read digital sheet music while keeping their hands on their instruments, the AirTurn AT-104 works with the two ATFS-2 footswitches for forwards and backwards page turns (the right footswitch turns pages forwards, the left footswitch turns pages backwards).

Software Compatibility
The AirTurn AT-104 is compatible with Windows Vista, Windows 7, Surface RT,Windows 8 and Windows 10 only - not compatible with Windows XP or iOS devices like the iPad. The AirTurn AT-104 is optimized for use with MusicReader PDF 4 for Mac and PC computers (sold separately). The AirTurn AT-104 emulates a standard keyboard, and will advance the pages of any program that can accept Page Down and Page Up keyboard strokes.

ATFS-2 Footswitch
The ATFS-2 Footswitch is designed to be lightweight, absolutely silent, and ultra compact. Constructed of injection-molded polycarbonate that's nearly indestructible, the ATFS-2 is an ideal footswitch for people who are concerned with silent operation, portability, and being able to carry accessories around with a minimum of fuss. The ATFS-2 is designed for optimal use on flat surfaces, such as wooden stage floors and low carpets. Due to its light weight, it is not ideally suited for uneven surfaces.

The ATFS-2 features a very low profile, making it easy to tap with a minimum of effort.
Features
AirTurn AT-104 wireless page turning transmitter
Wireless USB receiver
2 AA batteries for the AirTurn AT-104
2 ATFS-2 silent pedals with connecting cables mounted on a pedal board
Instruction manual