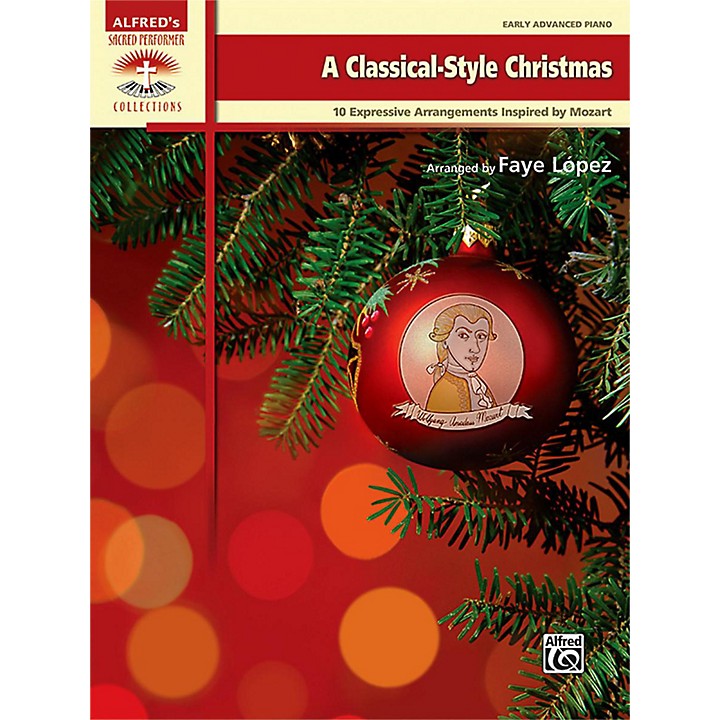 10 expressive arrangements inspired by Mozart.
A Classical-Style Christmas combines memorable Christmas carols with excerpts from some of Mozart's most wonderful works. The arrangements are not all written in Classical-period styling; you will hear some Romantic and Contemporary sounds as well. However, all of the selections are inspired directly by individual Mozart pieces.

Titles: Angels from the Realms of Glory (Inspired by Allegro in B-flat Major, K. 3) * Angels We Have Heard on High (Inspired by Sonata in C Major, K. 545: Rondo) * Away in a Manger with O Come, Little Children (Inspired by Sonata in G Major, K. 283: Presto) * Come, Thou Long-Expected Jesus (Inspired by Menuet in F Major, K. 5) * The First Noel (Inspired by Polonaise in D Major from Twelve Little Pieces) * Good King Wenceslas (Inspired by Eine Kleine Nachtmusik, K. 525: Rondo, Allegro) * He Is Born (Inspired by Sonata in D Major, K. 284: Allegro) * See, Amid the Winter's Snow (Inspired by Adagio for Violin and Orchestra, K. 261) * Silent Night (Inspired by Sonata in A Major, K. 331: Andante grazioso) * We Three Kings of Orient Are (Inspired by Sonata in A Minor, K. 310: Allegro maestoso).
Features
Arr. Faye L³pez
Series: Sacred Performer Collections
Category: Piano Collection
Format: Book
Instrument: Piano
Level: Early Advanced
ISBN 10: 1470617315
ISBN 13: 9781470617318