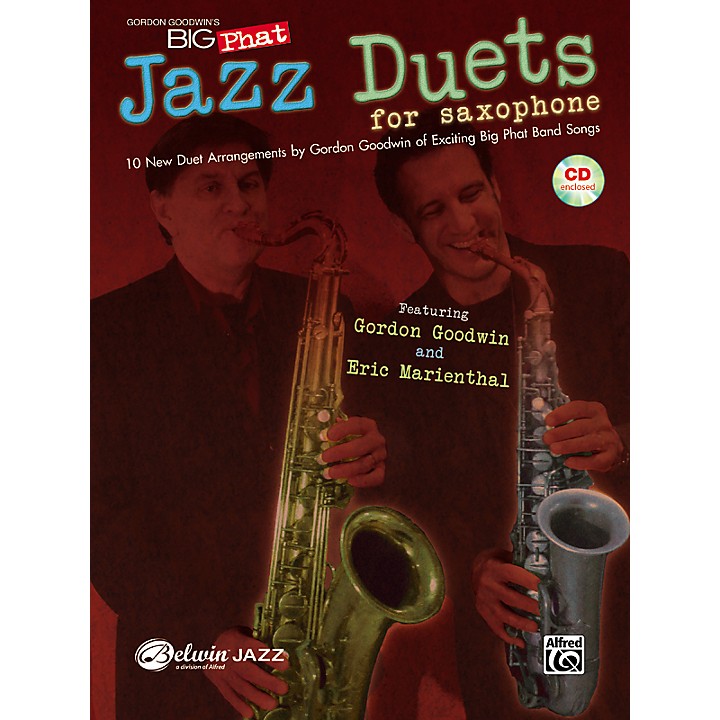 A songbook of alto and tenor saxophone duets for medium-advanced to advance level players.
If you're a seasoned sax player still getting comfortable playing compositions featuring duets, the Alfred Gordon Goodwin's Big Phat Jazz Saxophone Duets songbook could be your ideal companion.
Composed and arranged by Gordon Goodwin, these 10 saxophone duets are completely interchangeable for any combination of Eb or Bb saxophones. You can play with a duet partner or use the CD and play duets with great saxophonists Gordon Goodwin (tenor sax) or Eric Marienthal (alto sax). On the included CD, Duet Part 1 and Duet Part 2 are each controlled by dialing in/out the left or right channels on your stereo system.
Features
Series: Jazz Duet Series
Category: Woodwind - Saxophone Duet
Format: Book & CD
Instrument: Saxophone
Instrumentation: Saxophone Duet
Improve your jazz concept, articulation, time, intonation and sight-reading
Duets are playable with any combination of Eb or Bb saxophones (requires two books)
Gordon Goodwin plays the tenor sax on Duet Part 1 and Part 2
Eric Marienthal plays the alto sax on Duet Part 1 and Part 2
Gordon and Eric play together on Duet Part 1 and Part 2
Play with a duet partner or with the CD by dialing in/out the left or right stereo channel
Opportunities to improvise too!
Includes 10 exciting Gordon Goodwin tunes: Act Your Age * Count Bubba's Revenge * El Macho Muchacho * Gumbo Street * Hunting Wabbits * The Jazz Police * La Peque±a Almeja * Maynard & Waynard * Swingin' for the Fences * There's the Rub