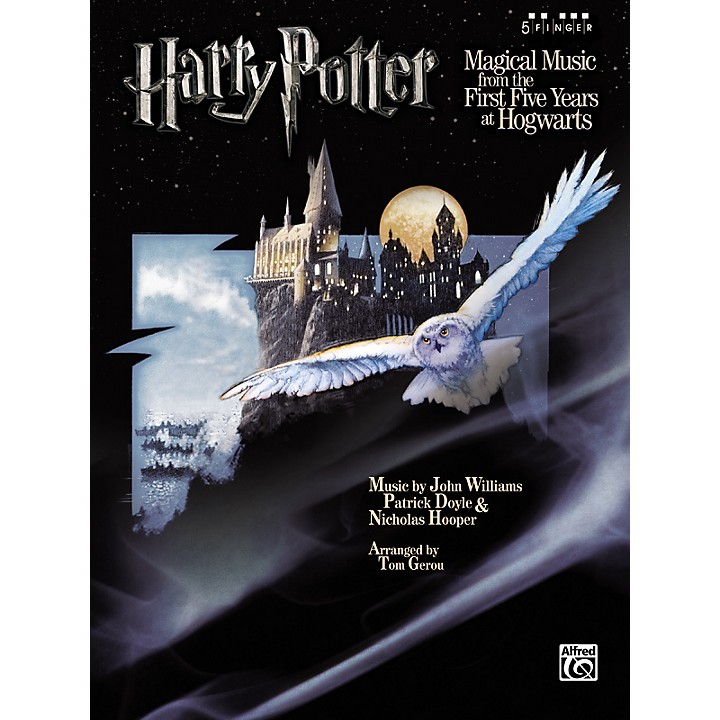 From the First Five Years at Hogwarts
For the first time ever, musical selections from the first five Harry Potter movies are available in one jam-packed collection. These all-time favorite themes have been arranged in traditional five-finger style, with the melody split between the hands, and without key signatures in the student part. Starting hand positions are illustrated above each piece. Fingerings that are outside the noted five-finger positions and those indicating a shift in hand position are circled for easy identification. Dotted quarter notes, triplets, and sixteenth notes have been avoided. All of the pieces have optional duet accompaniments created to achieve a fuller, richer musical experience. Elementary-level pianists will love playing these arrangements that faithfully render the magical music of John Williams, Patrick Doyle, and Nicholas Hooper. Full-color art pages from each movie are included.

Titles: Double Trouble • Dumbledore's Army • Fireworks • Hagrid the Professor • Harry in Winter • Harry's Wondrous World • Hedwig's Theme • Hogwarts Forever! • Hogwarts' Hymn • Hogwarts' March • Neville's Waltz • Nimbus 2000 • Potter Waltz • The Quidditch World Cup (The Irish) • Voldemort.
Features
Contributors: John Williams, Patrick Doyle, and Nicholas Hooper / arr. Tom Gerou
Series: 5 Finger
Instrument: Piano
Level: Elementary
Page count: 60
ISBN: 0739060465