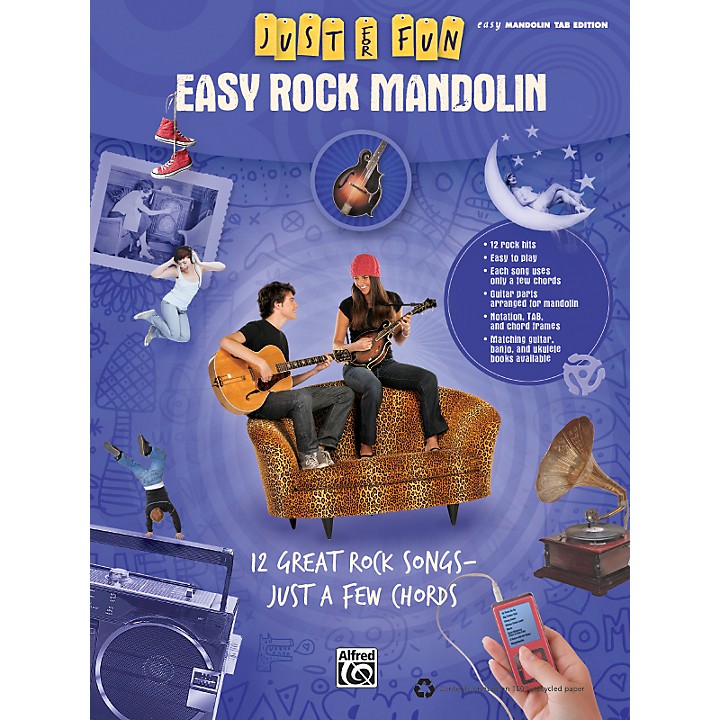 12 rock classics arranged to be easy to learn on the mandolin.
Just For Fun: Easy Rock Mandolin is designed for your total enjoyment. Each featured song is inherently simple, with just a few mandolin chords. All the tunes are arranged for mandolin from the actual guitar parts, simplified just enough to keep them fun and musically satisfying.

The songs you're learn to play on mandolin include: "As Tears Go By"" (The Rolling Stones) &bull "Big Yellow Taxi" (Joni Mitchell) &bull "Casey Jones" (Grateful Dead) &bull "Gimme Some Lovin'" (The Spencer Davis Group) &bull "Gloria" (Them) &bull "Good Riddance" (Time of Your Life)" (Green Day) &bull "A Horse with No Name" (America) &bull "Margaritaville" (Jimmy Buffett) &bull "Moondance" (Van Morrison) &bull "Peaceful Easy Feeling" (Eagles) &bull "Take It Easy" (Eagles) &bull "Take Me Home, Country Roads" (John Denver).
Specifications
ISBN 10: 0739064630
ISBN 13: 9780739064634
Features
Series: Just for Fun
Category: mandolin music book
Instrument: Mandolin
12 soft rock classics, including:
"Margaritaville" - Jimmy Buffett (composer)
"Gloria" - Van Morrison (composer)
"As Tears Go By" - Mick Jagger (composer); Keith Richards (composer); Andrew Loog Oldham (composer)
"A Horse with No Name" - Dewey Bunnell (composer)
"Good Riddance" (Time of Your Life)" - Billie Joe Armstrong (composer); Frank E. Wright III (composer); Michael Pritchard (composer)
"Casey Jones" - Jerry Garcia (composer); Robert Hunter (lyricist)
"Moondance" - Van Morrison (composer)
"Gimme Some Lovin'" - Steve Winwood (composer); Muff Winwood (composer); Spencer Davis (composer)
"Big Yellow Taxi" - Joni Mitchell (composer)
"Peaceful Easy Feeling" - Jack Tempchin (composer), The Eagles (composers)
"Take it Easy" - Jackson Browne (composer, Glenn Frey (composer)
"Take Me Home, Country Roads" - John Denver (composer), Bill Danoff (composer), Taffy Nivert (composer)