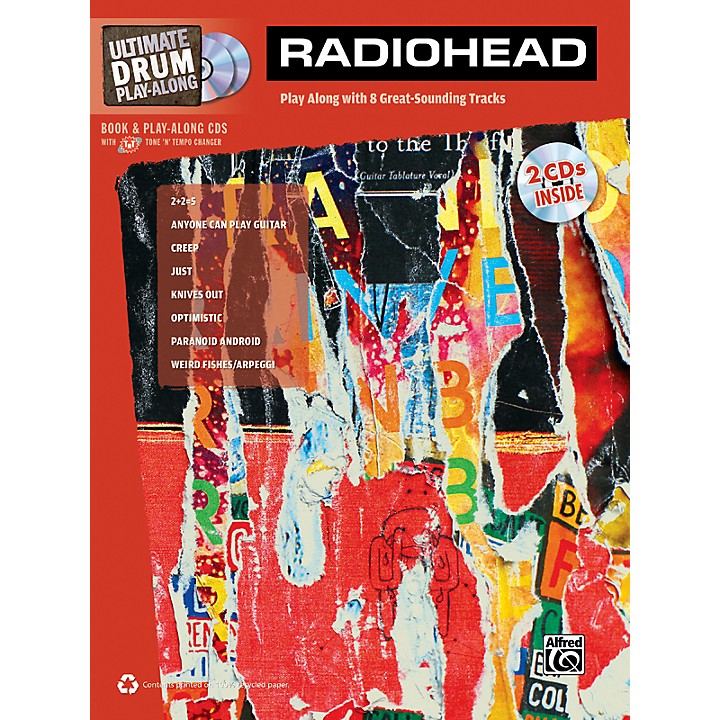 8 great tracks from Radiohead with CDs that help you master the drum parts.
Fun and educational, the Radiohead: Ultimate Play Along Drum Book is perfect for drummers who seek to learn how to play popular Radiohead songs, fit for individual or group enjoyment. The play alongs are also ripe for students as a supplement year round. Musicians of any level are met with best-loved songs like the uptempo "2+2=5," hard-hitting "Paranoid Android," and their debut single, "Creep," including many other hits. It includes three versions of every song on the included CDs: a full-instrumental soundalike, a version without drums but with a constant click track, and a version without drums and without a click track.

As a bonus, Alfred's exclusive TNT (Tone 'N' Tempo) Changer software on the included CDs provide a fun, educational, and customized learning experience by allowing the user to easily loop sections for practice, slow tracks down or speed them up without changing the pitch, and change keys. The CDs can also be played in a conventional CD player. In addition to the complete song charts, drum-only charts are provided in the book for convenience, along with a helpful drum notation key for reference.

Titles included: "2+2=5" * "Anyone Can Play Guitar" * "Creep" * "Just" * "Knives Out" * "Optimistic" * "Paranoid Android" * "Weird Fishes/Arpeggi".