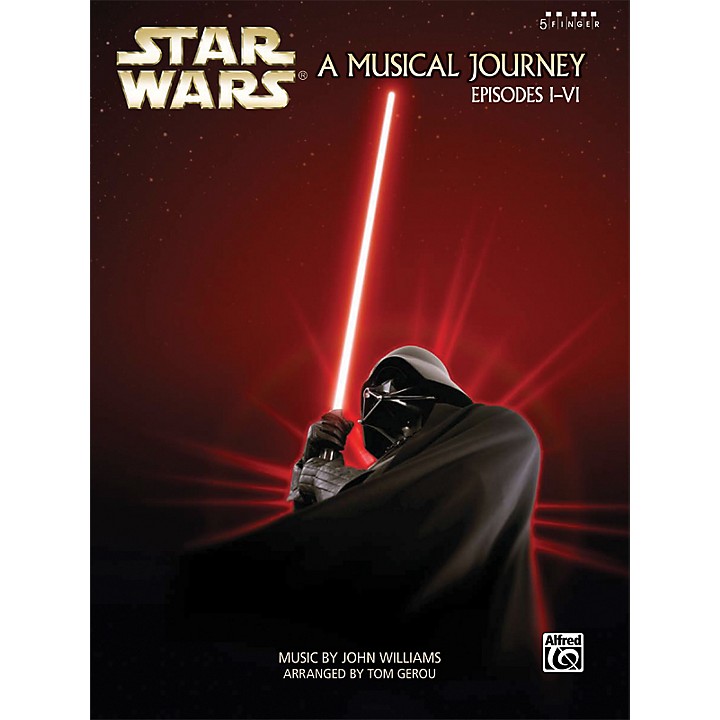 A folio of piano sheet music covering the epic adventure of the Star Wars series.
The entire Star Wars saga is encompassed in Alfred's Star Wars: A Musical Journey music collection! Set amid stunning imagery from the films, these piano arrangements bring the magic of Star Wars to life as they masterfully invoke the grand romanticism of John Williams's epic, award-winning scores. Included are the most definitive and memorable pieces from each of the six Star Wars episodes arranged by Tom Gerou. These arrangements are set in traditional five-finger style, with the melody split between the hands. For performance ease, student parts have no key signatures, dotted quarter notes, triplets, or 16th notes. Optional duet accompaniments are also provided for a fuller, richer musical experience.
Features
Format: Book
Instrument: Piano
Level: Elementary
Version: Five Finger Piano
UPC: 038081382906
ISBN 10: 0739067184
ISBN 13: 9780739067185
Titles include: 20th Century Fox Fanfare * Across the Stars * Anakin's Theme * Battle of the Heroes * Binary Sunset * Cantina Band * Duel of the Fates * The Imperial March * Jawa Sandcrawler * Luke and Leia * May the Force Be with You * Princess Leia's Theme * Star Wars (Main Title) * The Throne Room * Yoda's Theme.