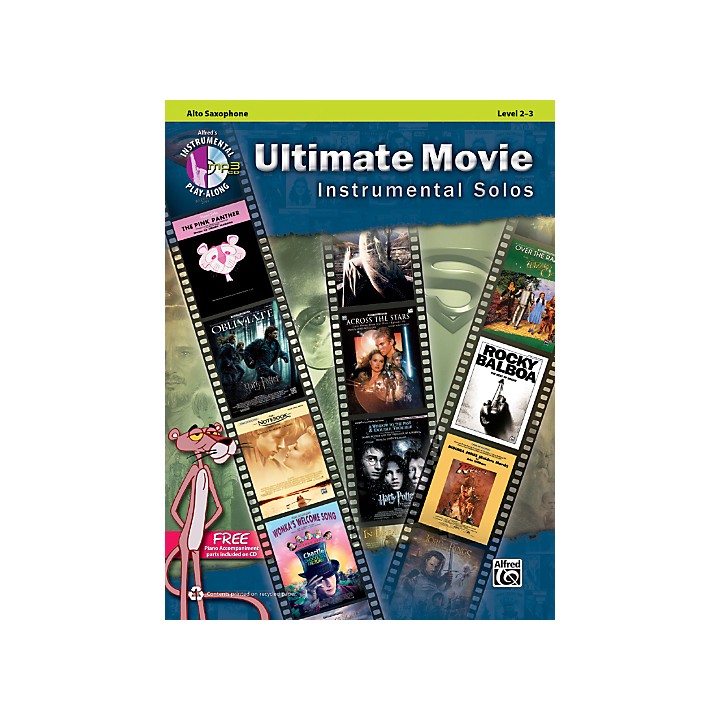 A multimedia set containing multi-instrument transcriptions and an orchestrated accompaniment MP3 CD of 60 of Hollywood's classic instrumental solos.
This book is part of Alfred's Ultimate Movie Instrumental Solos series arranged for flute, clarinet, alto sax, tenor sax, trumpet, horn in F, trombone, violin, viola, cello, and optional piano accompaniment. All wind instrument arrangements are fully compatible, and can be successfully performed as ensembles or solos by students who have completed the first book of any standard band method. A fully orchestrated accompaniment MP3 CD is provided, featuring each song as a live performance demo track followed by a play-along track. Contains 60 songs!
Specifications
Item: 00-40111
UPC: 038081447322
ISBN 10: 0739091891
ISBN 13: 9780739091890
Features
Series: Pop Instrumental Solo Series
Category: Instrumental Series
Format: Book & CD
Instrument: Saxophone
Instrumentation: Alto Sax
Level: 2-3
Titles include: Cantina Band * Follow the Yellow Brick Road / We're Off to See the Wizard * Gollum's Song * Hedwig's Theme * James Bond Theme * Obliviate * Pink Panther Theme * Raiders March * Superman Theme * Wonka's Welcome Song.