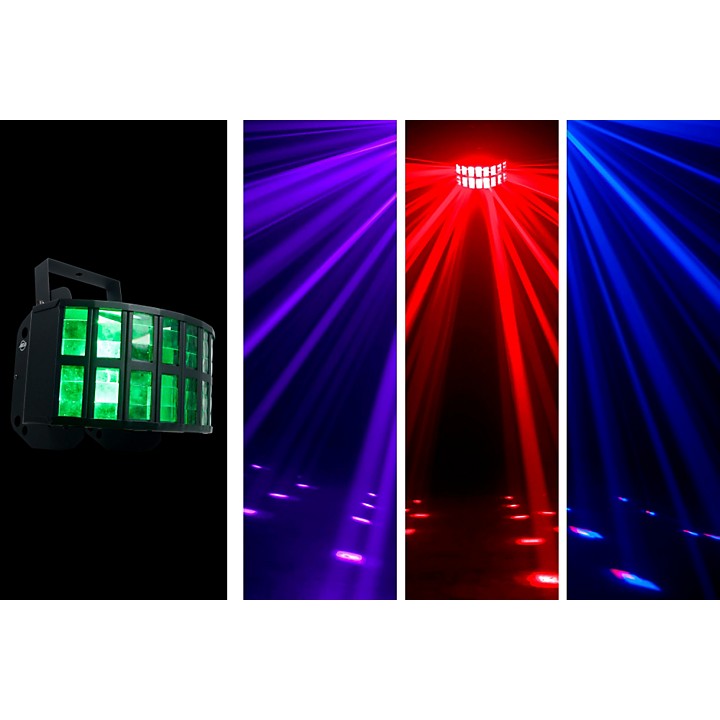 Two bright LEDs with six different built-in colors.
The Aggressor HEX LED is one of the most popular American DJ lighting effects. Now powered by two 12-watt six-in-one HEX LEDs, the Aggressor uses six colors built into each LED (red, green, blue, cyan, amber & white) for more color options and a brighter output. The Aggressor HEX LED is easy to set-up and use right out of the box. Choose the built-in Sound activation mode with 60 different reactions that move to the sound of the music leaving you free to concentrate on other aspects of your performance. Thanks to the addition of IEC in/out connectors you can easily daisy chain power from one fixture to the next, or to multiple Aggressor HEX LED fixtures if desired. And with an approximate 50,000 hours of operation time the Aggressor HEX LED will go well into the night and beyond for a long time.
Specifications
Multi-voltage operation: AC 100V-240V 50/60Hz
IEC AC IN/OUT on rear to daisy chain power (up to 10 Aggressor Hex LED's @ 120V and 15 Aggressor Hex LED's @ 230V )
Dimensions per unit (LxWxH): 13x12.5x12.5 / 330x316x313mm
Weight (per unit): 10 lbs. / 4.2 kg.
Features
Classic ADJ Effect - Now with ADJ HEX LED technology for more colors and brighter output
Equipped with two 12-watt "6-in-1" (RGBCAW) "Hex Color" LEDs that produce a variety of color effects (Red, Green, Blue, Cyan, Amber & White)
60 Sound activated reactions move to the sound of music
Simple Plug & Play makes it easy to use without any external controls.
Power consumption: 30W Max per unit
aLong Life LEDs (Rated at approximately 50,000 hrs.)