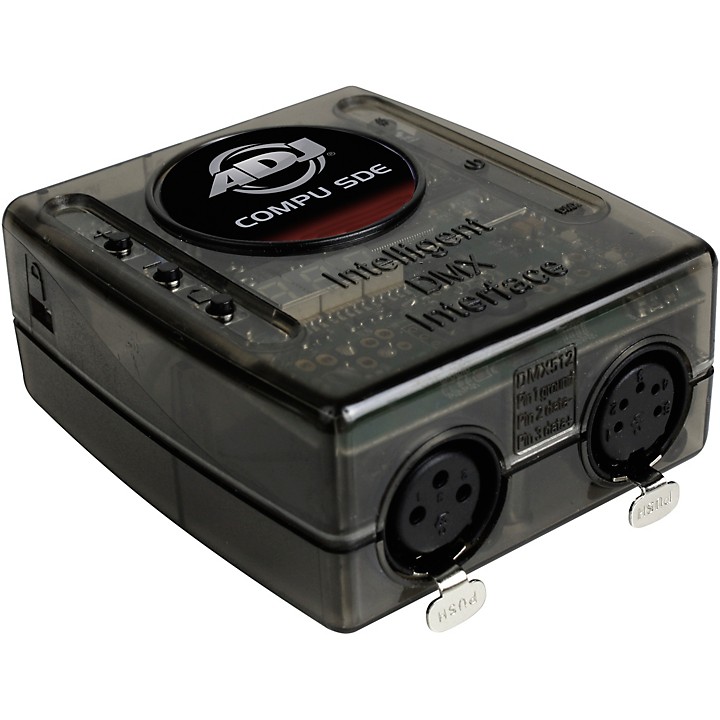 DMX control software to assist lighting designers.
ADJ Compu Show is a powerful DMX control software to help lighting designers program sophisticated lightshow at their fingertips directly from their computer. Compu Show comes with many great features making lighting design quicker and easier than before.

For instance, the EasyTime editor is based on a timeline. Thanks to this tool, it becomes very easy to build your show. Various effects, either static or dynamic (matrix effects, shapes...) are available and can be dragged to the timeline. Whether you are controlling moving heads or LED strips, this is the perfect tool. Palettes are also now available for positions, colors, beams or any other channel type that you wish to have palettes for. If a scene has been created using palettes, it can quickly be updated by editing the relevant palettes. Fixtures can be grouped, allowing for several fixtures to be controlled simultaneously on the fly. New CLEAR ALL and AUTO RELEASE functions allow for live edits to be quickly reset. This toolbar offers master control of your fixtures' light beam. The toolbar gives you control of the dimmer, zoom, shutter, and the iris. The new cycle, or cue list, editor has a timeline built in. You can drag and drop buttons on the timeline to easily program cycles. ADJ Compu Show software is compatible with Compu Cue Basic, Compu Cue and Compu SDE interfaces.

Compu Show also comes standard with powerful 3D Visualization software, 3D Easy View, which allows you to easily create a scenario of your imagination using Studio 3D object formatting. Basic Objects and truss structures are included to help in getting started right away, and lighting fixtures are instantly inputted as soon as you create a page in the Compu Show software.

Compu Cue Basic and Compu Cue interfaces allow for limited 3D visualization while the Compu SDE interface allows for more advanced features include; 3D video with positioning, 2D set up views, report management printing (which allow you to print out wire frame CAD drawings which, include position and DMX channel charts).

Specifications
System Requirements
Windows XP / VISTA / 7 / 8 / 10, (32-bit or 64-bit Compatible)
Laptop or Desktop Computer with 2.0 USB Port
1280 x 800 Screen Resolution
1 GB of RAM for Storage
1 GHz (Single or Dual Processor System)
256 MB RAM Video Card for 3D Visualizer
Touch Screen Ready
Features
Compu SDE Live Use with Computer
USB & RJ45 connections
Micro SD memory card slot
Smartphone & tablet control (iPhone/iPad/Android)
3 DMX Universes (512 Channels each universe)
4 Art-Net Universes
Full 3D Visualizer
MIDI live control
MIDI time clock (In/Out)
Port Triggering
Compu SDE Stand Alone Mode (no computer)
3 DMX Universes
Infra Red remote control
Micro SD slot for stand alone memory
Port triggering
Clock/calendar triggering
Multi-zone
WARNING: This product can expose you to chemicals including Di(2-ethylhexyl)phthalate (DEHP), which is known to the State of California to cause cancer, and to cause birth defects or other reproductive harm. For more information go to www.P65Warnings.ca.gov.