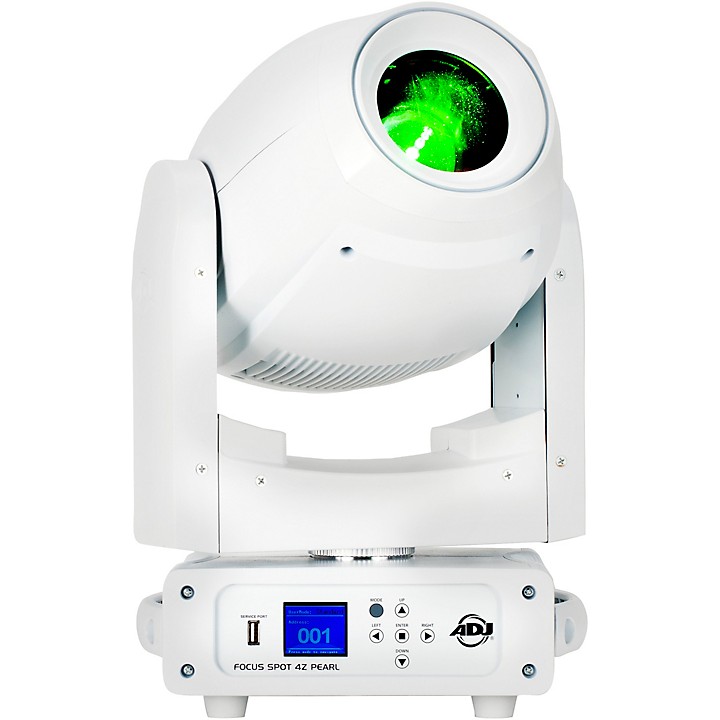 A focus spot with motorized focus and an array of GOBO options.
The Focus Spot 4Z Pearl from American DJ is powered by a brilliant 200W cool white LED engine and is equipped with motorized focus and zoom (11 ~ 22-degree zoom) and white exterior housing. Its designed for temporary live events and fixed installations in nightclubs, stages or churches. It is professionally fit with one GOBO wheel with six rotating/replaceable GOBOS, eight vibrant colors plus white and two prism wheels (one five-facet linear and one six-facet circular). The Focus Spot 4Z has locking power In/Out connections to daisy chain the power, as well as 5-pin DMX In/Out to transmit a DMX signal from one fixture to the next. There is a USB firmware update port built-in plus advanced control options such as 16-bit fin pan and tilt, multiple DMX control modes and six different dimming options. The Focus Spot 4Z offers a robust light output in a lightweight, compact footprint that's only 18-inches high, weighing 23 pounds.
Specifications
Data In/Out: 5-pin DMX
Power In/Out: Locking power In/Out connections (Daisy chain 4 units @ 120V; 10 units @ 240V)
Control mode: DMX512 or internal programs
6 Dimming curve modes: Standard, Stage, TV, Architectural, Theatre, Stage 2
3 DMX channel modes: 16/18/22 Channels
Prism Wheel 1: Rotatable 5-facet Linear
Prism Wheel 2: Rotatable 6-facet Circular
GOBO size: 0.885" (outer), 0.748" (viewable); 0.019-0.078" (thickness)
2 Prism FX: Rotating 5-facet Linear and rotating 6-facet Circular
Motorized Zoom: 11 ~ 22-degrees plus 16-bit Fine Zoom
Pan: 540 and 630 degrees
Tilt: 270 degrees
Dimensions (LxWxH): 7.15" x 10.97" x 18"
Weight: 23 lb.
Includes: Omega bracket, 6 ft. locking power to Edison cable, and safety cable
Features
200W Cool White LED Engine (50,000 hr.)
Motorized Focus
0-100% smooth dimming
Various strobe speeds
USB firmware update port
2 cooling fans
White exterior housing
Color wheel with 8 dichroic colors plus white
6 aluminum GOBOs plus open
All GOBOs removable and rotatable
GOBO Shake Effect
Color LCD display with 6-button function menu
Wired Digital Communication Network
RDM (Remote Device Management)
WARNING: This product can expose you to chemicals including Di(2-ethylhexyl)phthalate (DEHP), which is known to the State of California to cause cancer, and to cause birth defects or other reproductive harm. For more information go to www.P65Warnings.ca.gov.