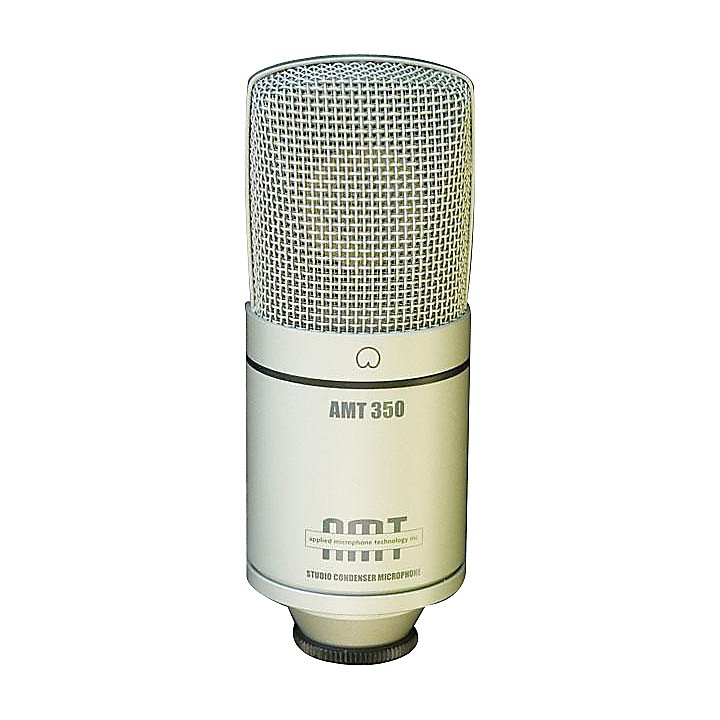 Affordable excellence.
The AMT 350 large diaphragm studio microphone is designed to record vocals and instruments on classic analog and the popular growing digital format. With a cardioid pattern, the 350 mic is designed to be used in front of guitar cabinets, acoustic guitars, vocals, and acoustic instruments. The AMT 350 incorporates an element nearly an inch in diameter with a thickness of 6 microns of gold on the diaphragm which gives it it's wide frequency range and stellar sensitivity.

The AMT 350 is engineered to capture the most natural sound from the source in a controlled setting and was after the most expensive European large diaphragm microphones with emphasis on the sonic quality instead of additional features. The 350 has transparent and high definition detail down to subtle sonic qualities.

The 350 mic is in an affordable price range allowing one to purchase in pairs for stereo overhead use as well. It's ultra low noise level allows it to compete with any studio microphone on the market. Comes complete with hard shell case and clip for mounting to a microphone stand.

Requires phantom power.
Features
Phantom Power 48V
20-20kHz frequency response
200 ohms impedance
130dB maximum SPL
80dB signal-to-noise ratio
Weight (Mic only) 548grams
Sensitivity 13mv/Pa
Cardioid pattern
Output Connection 3-pin XLR
Element Nearly an inch in diameter with 6 microns of gold.