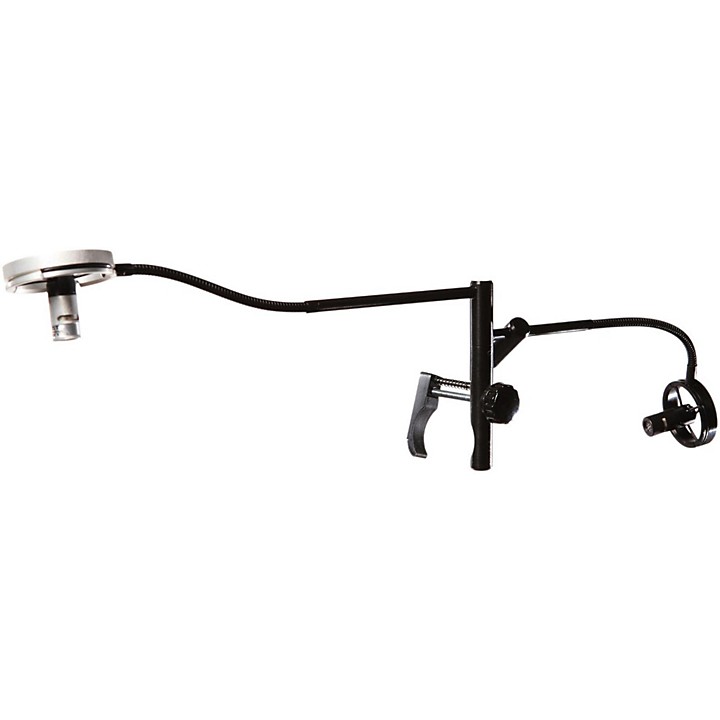 Condenser mic with 2 cardioid elements that mounts to clarinet, alto and bass flute, and oboe.
The AMT WS Clip-On Double Microphone System includes the WS Double condenser microphone and the BP45 beltpack preamp. The WS is a low-profile double condenser microphone that attaches to the clarinet, alto and bass flute, or oboe with a Ultra- miniature low mass clamp. It is specifically designed for the timbre of the clarinet, The instrument microphone provides pure tonal reproduction while being unobtrusive. It has an even reproduction of sound across the entire instrument. The AMT WS features a flexible gooseneck, allowing the player to position the microphone for the best possible tone reproduction. It's rugged construction of anodized aviation aluminum makes it highly durable, while being lightweight and non-corrosive. The WS features one microphone at the bell and second positioned over the keys to provide a truer reproduction for the musical instrument's tone quality.

The WS mic is terminated by a 3.5mm plug which connects to a belt pack preamp. The output is a predetermined mix balanced by the nature of the instrument. The included belt pack houses a volume control, contours the setup for the intended instrument, and powers the microphone system appropriately. A low Z cable and case is included.

The AMT WS models including WSW, WS Studio, and the WS all come with TWO isolation rings now. Both microphones are suspended in AMT's iso-ring technology which allows more gain before feedback and less handling noise.

AMT BP45 Beltpack Preamp
The WS setup Comes with BP45 beltpack style preamp, case, and AMT disconnecting cable technology which allows the microphone to be used as "Wireless, with beltpack, or Studio" models if needed. Phantom power OR 1 AA battery required. Includes 4 Pin Locking connector, XLR output, and low trim filter. Works with all AMT microphones that include D.C.T. (Disconnecting Cable)

Requires phantom power.
Specifications
Element: Condenser
Polar Pattern: Figure 8
Frequency: 30Hz - 20kHz
Sensitivity: -68dB+ 4dB
Impedance: 150 Ohms
Phantom Power:12 to 52 vDC or Self-powered battery
Max input SPL: 140 dB
Dimension:13" Flex Arm
Cable:10'
Weight (mic only): 31 grams
Features
AMT WS Microphone
BP45 Belt pack Preamp
1/4" to XLR Cable
Hardshell Blo-mold protective case