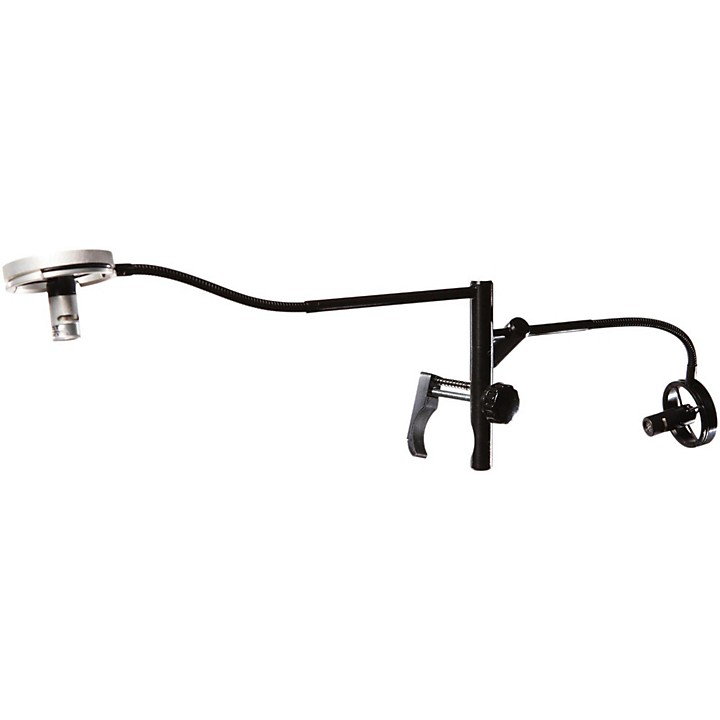 The AMT WS Studio version combines the AMT WS Clip-On Double Microphone system with the AMT AP40 floor pre-amp. The AP40 converts the microphones to low impedance, it regulates the voltage to each microphone, and with certain models creates a specific frequency curve. The curve is necessary on certain models or musical instruments in order to maintain the most natural reproduction of sound in conjunction with achieving the most amount of gain before feedback in a live application. The output of the preamp is an XLR Low Impedance balanced output. The output sends signal at Mic Level.

The AMT WS is a low profile double condenser microphone system that attaches to the clarinet, alto and bass flute, or oboe with a ultra-miniature low mass clamp. It is specifically designed for the timbre of the clarinet. The microphone provides pure tonal reproduction while being unobtrusive. It has an even reproduction of sound across the entire instrument. The AMT WS features a flexible gooseneck, allowing the player to position the microphone for the best possible tone reproduction. It's rugged construction of anodized aviation aluminum makes it highly durable, while being lightweight and non-corrosive.

The AMT WS Studio comes with two isolation rings. Both instrument microphones are suspended in AMT's iso-ring technology which allows more gain before feedback and less handling noise. The AMT WS Studio version is meant to be used either in a Studio setting where close miking of an musical instrument is desired or in a professional level setting where the sound engineer needs control of the microphone.

Requires phantom power.
Specifications
Element: Condenser
Polar Pattern: Figure 8
Frequency: 30Hz - 20kHz
Sensitivity: -68dB+ 4dB
Impedance: 150 Ohms
Phantom Power:12 to 52 vDC or Self-powered battery
Max input SPL: 140 dB
Dimension: 13" Flex Arm
Cable: 10'
Weight (mic only): 31 grams
Features
2 AMT WS condenser Microphones
Flexible Gooseneck
AMT AP40 Floor Pre-amp
Hard shell protective case