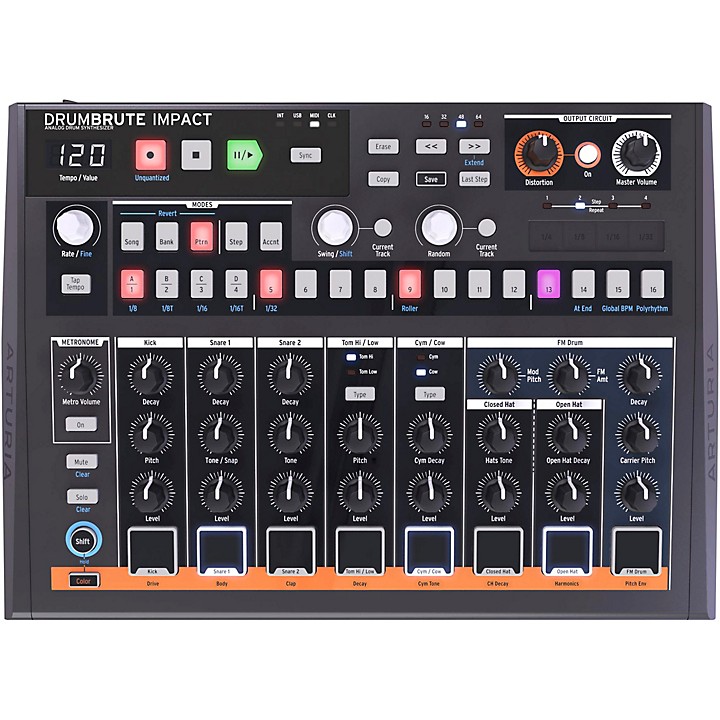 Get ready for brutally aggressive drum sounds.
Get ready to meet a different kind of Brute. A drum machine with attitude, DrumBrute Impact is an addictively fun, instantly satisfying beat maker with a beefy, unique voice. Featuring amazing performance controls, superb connectivity, and analog sounds that will give your music a powerful, visceral energy.

Aggressive analog sounds
Putting the focus on "Brute", DrumBrute Impact features 10 high-energy, refined, punchy analog sounds. It uses "Color" sound-shapers to introduce unique, per-instrument effects for some tonal variation. Boost the harmonic content, add some drive, snap, or crack at the touch of a button, or create automated changes by creating a "Color" sequence. If you want your drums to push even harder, there's a built-in distortion with drum-optimized crunch. DrumBrute Impact is a drum machine for musicians and producers who crave raw power and awesome tone, complementing its cleaner sounding brother: DrumBrute.

Instinctive sequencing
Sharing the same prize-winning, prize-fighting sequencing architecture of the original DrumBrute, you'll love the simple, fun, and intuitive sequencer in DrumBrute Impact. Create complex phasing polyrhythms and straight, pounding rhythms; record a finger-drumming performance; punch in a step-sequenced masterpiece; everything is a joy. Use the touch strip to create some real-time glitchy, beat-repeat breakdowns, spice up a single instrument or your whole pattern with a dedicated 'Random' knob, and add some syncopation and groove with the 'Swing' feature.

Addictive hands-on fun
Get away from computer screens, say goodbye to sub-menus, and jump into the world of tactile satisfaction. Connect to your other gear, sync up, and make some music the old-school way. Featuring a huge array of sync and connectivity options, you'll be able to hook up and jam with practically any other synth, sequencer, or MIDI-enabled instrument. Save your patterns, chain them together, and create full songs and live sets. DrumBrute Impact is a massive sounding, creativity fueling beast, with effortless workflow and amazing performance controls.

Features
10 high-impact analog drum sounds
Powerful sequencer: 64 patterns with up to 64 steps
Polyrhythm: set unique pattern lengths for each instrument
Looper: for glitchy beat-repeats
Roller: add per instrument drum fills
Songs: chain up to 16 patterns, save up to 16 songs
Swing: add some groove to your rhythm, either globally or per drum
Randomness: add unpredictable variations to your pattern.
Output distortion: add some filth when you need it, and bypass when you don't
Sync to practically any hardware or software instruments, sequencers, or interfaces
4 additional outputs for Kick, Snares, Hi Hats, or the FM Sound independently
Unique Color control adds drive, snap and sizzle to individual instruments