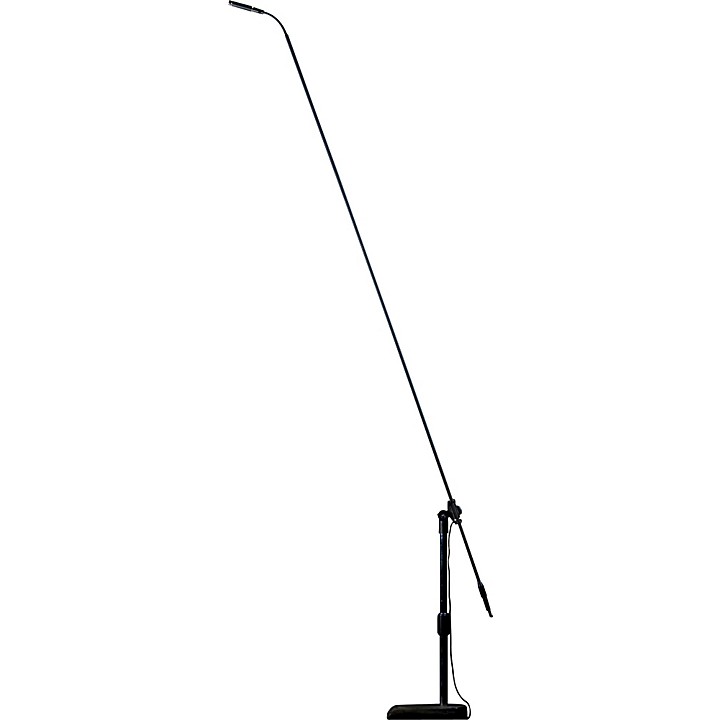 Combination 50" MicroBoom carbon fiber rod with M1250B miniature condenser.
The Audix MicroBoom MB5050 Carbon Fiber Boom System consists of a 50" (1270mm) carbon fiber rod along with an Audix MB1250 mini cardioid condenser microphone. Lightweight and able to attach to any microphone stand, the Audix MicroBoom MB5050 is a problem solver for many hard-to-reach miking applications, including choirs, plays, and orchestras. Amplifying large areas without feedback is a classic sound reinforcement challenge, one made simple with the MB5050 system.

Audix employs high-quality shielded cable internally to ensure the cleanest audio signal path between the microphone and the bottom of the boom. The boom terminates in a mini-XLR male connector.

The MicroBoom MB5050 stand adapter is designed for total control over angle, rotation, and position of the carbon fiber rod. A metal thumbscrew locks the rod firmly in place. The final angle and position of the microphone is controlled by the flexible metal gooseneck just below the microphone. The Audix MicroBoom MB5050 provides an ultra-clean, professional, and elegant appearance on stage along with exceptional performance and portability.
Specifications
Material Rod: Carbon Fiber
Gooseneck: Steel
Connectors: Brass
Length of MB50: 50" / 1270mm
Diameter: .20" / 7.4mm
Connectors:
Bottom: Mini-XLR male
Top: Mini-XLR female
Weight: 2.5 ounces / 78 grams (without mic or clip)
Finish: Non-reflective black
Features
Lighweight, rigid
Portable, easy to position
Clean, elegant appearance
Exceptional sound quality
Choice of capsules
No external power needed
Attaches to any mic stand
Can be used horizontally or vertically
25" shielded mic cable with Mini-XLR female XLR male connectors
Mic stand adapter with thumbscrew and wing nut adjustments
MB1250 Mini Cardioid
Type: Condenser
Polar Pattern: Cardioid / Hypercardioid (MB5050-HC)
Frequency Response: 50Hz - 19kHz
Impedance: 150 Ohms
Sensitivity: 10 mv / Pa @ 1k