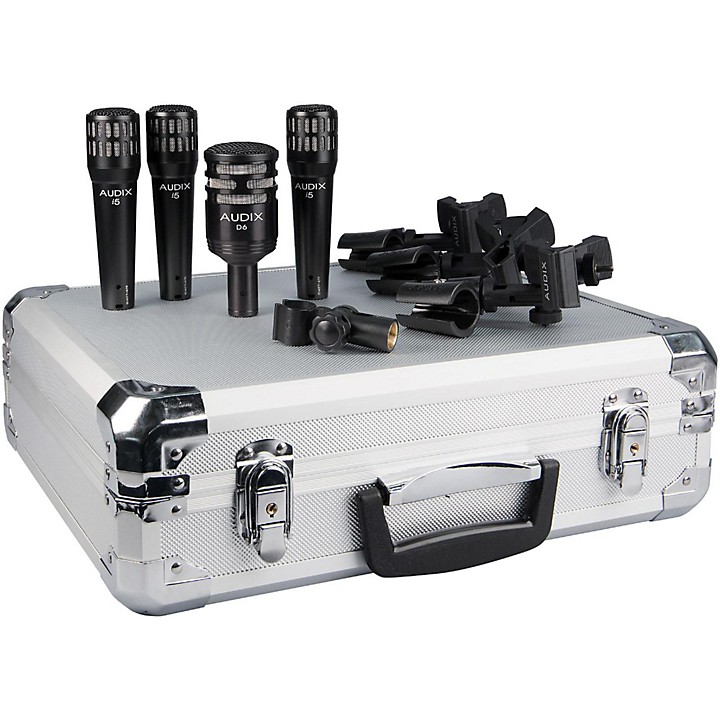 The ideal 4-piece drum pack for stage or studio.
The DP4 is an excellent selection of 4 microphones that are industry standards for professional drum and percussion applications. Equally useful for studio as well as live sound, the DP4 microphones are known for clarity, sound isolation, high SPL handling, and durability.

The DP4 mic package is ideal for professional drumers looking to mic their kit on the road or in the studio. The DP4 consists of one D6 kick drum mic and three i5 mics that are ideal for snares, cowbells and more. Also included are 3 MC1 mic clips and 3 DFLEX mounts for each one of the i5 mics, and a DCLIP for the kick drum mic. Everything is conveniently packaged in a foam-lined aluminum carrying case road case for safe keeping when the mics are not in use.

THE MICS:

i5 - Snare, Quinto, Cowbell, Timbale,
The i5 has the ability to capture the rich, deep resonance of the snare along with the attack necessary to cut through the mix. The i5's cardioid polar pattern allows it to focus on the specific instrument that is being miked while rejecting other instruments or ambient noise on stage. With a smooth and uniform frequency response of 50 Hz-16 kHz and an ability to handle sound pressure levels in excess of 140 dB, the i5 can be also used for a wide variety of instrument applications including percussion, guitar cabs, and vocals.

D6 - Kick Drum
The D6 has a frequency response of 30Hz-15kHz and is characterized with a cardioid pick-up pattern. The D6 is designed to sound good in any position and it is not dependent on finding the "sweet spot" of the drum. The D6 capsule features the same legendary VLM technology that has made the D series percussion and instrument microphones very popular for today's live stages and recording studios.
Features
3 x i5 snare drum, instrument mics
1 x D6 kick drum mic
3 x MC1 mic clips
3 x DFLEX mounts
Aluminum road case