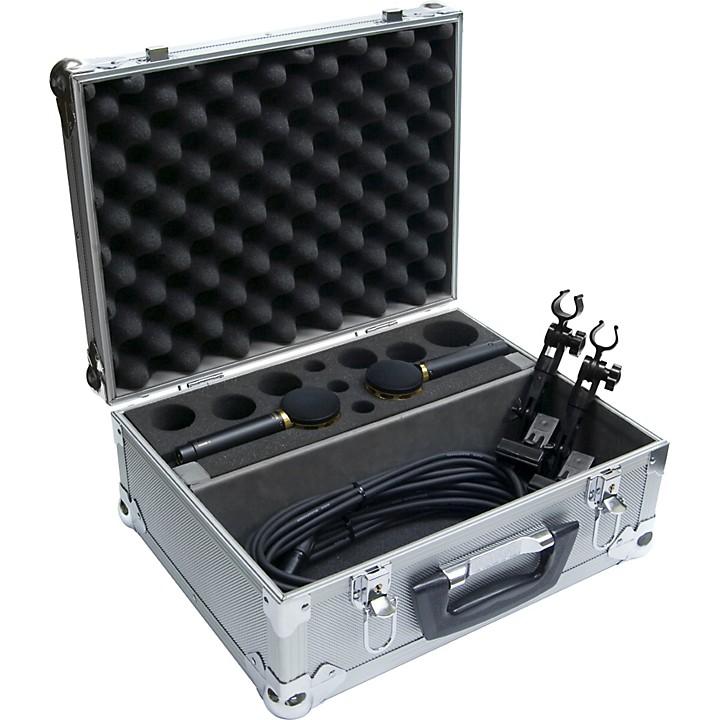 A 2-microphone system designed for miking piano.
The Audix SCX25A-PS Piano Microphone System has 2 SCX25A microphones; 2 DFLEX dual-pivot, rim-mounted microphone clips; and 2 CBL-20 20' XLR-XLR microphone cables.

2 SCX25A microphones

The Audix SCX25A is a professional studio condenser microphone with an elegant design and a patented capsule suspension system. Uniquely shockmounted
within an intricate machined brass ring, the Audix SCX25A capsule is completely isolated from the microphone's body and electronics. By successfully minimizing acoustic reflections and diffractions, the Audix SCX25A delivers a pure, open-air sound with exceptional detail and realism.

With a smooth, uniform frequency response from 20Hz-20kHz, the Audix SCX25A
is very consistent when responding to on and off-axis signals, exhibiting excellent phase coherence and minimal proximity effect. The Audix SCX25A has a wide cardioid polar pattern which enables sound engineers to blend the sound of the instrument or vocals with room sound. Other features include a 1-inch (25 mm) gold vapor capsule, miniaturized electronics, and an extremely small footprint.

The Audix SCX25A handles sound pressure levels in excess of 135dB and provides up to 20dB of ambient noise rejection. In addition to vocals, the SCX25A is ideally suited to capture acoustic instruments such as piano, guitar, vibes, woodwinds, brass, percussion toys, drum overheads, orchestra and symphony sectionals.

The Audix SCX25A, manufactured to exacting standards and tight tolerances, has a precision-machined brass body, innovative capsule suspension system, steel mesh grill, black e-coat finish, laser-etched model and serial number, and Switchcraft XLR connector.

2 DCLIP microphone clips

These 2 tension-fit, heavy-duty nylon microphone clips keep your SCX25As securely in place for optimal recording. Dual-pivot, rim-mounted.

2 CBL-20 cables

These 2 20' microphone cables have XLR-to-XLR connectors.

Specifications
Includes:
2 x 2C25A microphones
2 x DFLEX microphone clips
2 x CBL-20 20' XLR-XLR microphone cables
SCX25A Microphones:
Transducer Type: Condenser
Frequency Response: 20Hz-20kHz
Polar Pattern: Cardioid
Output Impedance: 200 ohms
Sensitivity at 1k: 28 mV/Pa
Equivalent Noise Level: 14 dB (A weighted)
Signal to Noise Ratio: 80 dB
Maximum SPL: ‰135 dB
Dynamic Range: 121 dB
Power Requirements: 48-52Vs phantom
Connector: Swithcraft male XLR connector
Polarity: Positive pressure on diaphragm produces positive voltage on pin 2 relative to pin 3 of output XLR connector
Housing/Finish: Machined Brass / Black E-coat
Weight: 0.5 lb.
Length: 5-4/5"
Features
SCX25A Microphones:
Innovative design
Isolated capsule suspension system
Low noise electronics
Extremely small footprint