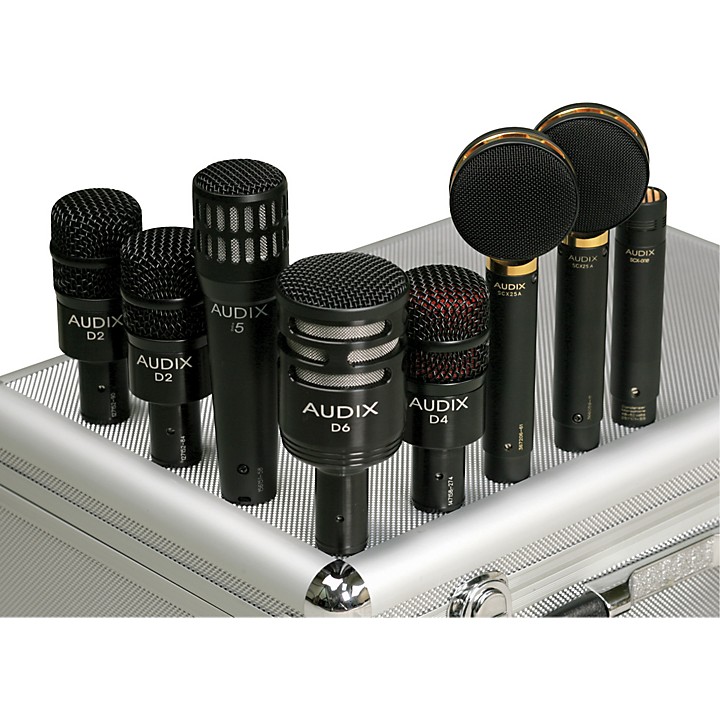 8 essential microphones for professional recording.
The Audix Studio Elite 8 Microphone Pack, is a stellar combination of 8 microphones for studio and live recording. The heart of this 8-microphone package is the popular Audix D6 dynamic microphone that is widely used for kick drums, bass cabs, and ultra-low frequency instruments. For those that prefer to capture the full range of the kit with overheads, the Studio Elite 8 Pack features two SCX25A large diaphragm condensers, as opposed to the pencil condensers in the DP Elite 8 Microphone Pack.

The Mics
1-D6
1-i5
2-D2
1-D4
1-SCX1-C
2-SCX25A

For snare drum, guitar cabs, horns, and general purpose, an Audix i5 mic is included; for rack toms, congas, guitar cabs, horns, and other hi-SPL instruments there are two- Audix D2 dynamic mics; for floor toms, djembe, bass cabs, sax, and low frequency instruments, there is one Audix D4 dynamic microphone; an SCX1-HC pencil condenser mic is provided for high-hat, snare bottom, and acoustic instruments requiring close miking techniques; and, topping off the package, for overheads, room miking, vocals, and acoustic instruments at large there are 2 Audix SCX25A large diaphragm condenser microphones.

Additionally, there are 4 D-Vice rim mounting clips for drums, and two SMT-25 suspension isolation shockmounts for the SCX25A mics. Packaged in an aluminum carrying case.
Features
All-in-one solution for studio miking
Instrument-specific mics for optimal results
Rugged Audix quality
Road case
i5 multi-purpose dynamic instrument mic
D2 dynamic instrument mics (2)
D4 dynamic kick drum mic
SCX1-HC pencil condenser microphone
SCX25A large diaphragm studio condenser microphones (2)
4 D-Vice rim mounting clips for drums
2 SMT-25 suspension isolation shockmounts for the SCX25A
Aluminum carrying case