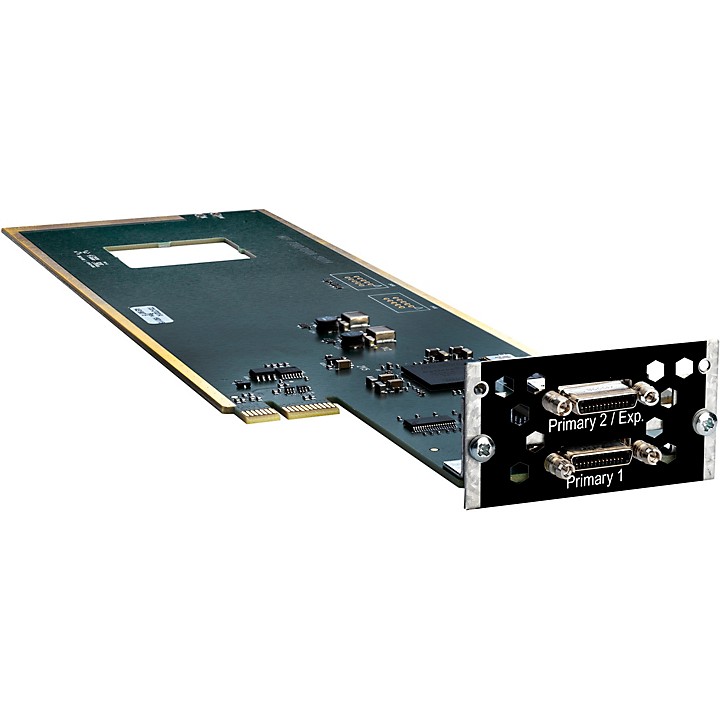 Studio hub for multiple systems with versatile routing.
The DigiLink I/O Card (64 channels of I/O per card) enables a multi-card HDX system—or even a multi-workstation system—to connect to a single MTRX interface and route all playback sources, stems, Dolby Atmos rendering, and monitoring outputs all through one 2U device.

For audio post professionals mixing and delivering in Dolby Atmos, MTRX plus the DigiLink I/O Card enables the most elegant end-to-end solution for immersive audio with less hardware, less complication, and lower costs.

Upgrade the quality of your music and audio post production with a versatile interface that delivers the most pristine sound possible. Designed for Pro Tools | HDX, HD Native, and other pro audio systems, Pro Tools | MTRX offers the superior sonic quality of DAD's legendary AD/DA converters, plus extensive, flexible routing and monitor control when used standalone or with Avid Pro Mixing surfaces. And because the interface can be customized with the analog and digital I/O you need, you can connect your entire studio together to take on the largest, most demanding music and post productions with ease.

Specifications
AES/EBU I/O: Eight AES pairs (16 mono) via two D25 connectors
MADI I/O: Coaxial interface with 64 I/O channels via BNC connectors
Option card slots: Eight available for I/O customization (see options below); up to six slots can be used to mix and match analog (AD/DA) cards, providing up to 48 analog channels per MTRX interface
System sync: Word Clock/video black burst (VBB) I/O via BNC connectors; AES11 input
Pro Tools interface: Two 32-channel DigiLink Mini connectors (64 channels total)
Sample rate: Supports 44.1 kHz–384 kHz, as well as DSD 64/DSD 128 with high precision internal clock and PLL
Power: Dual power supplies (internal)
Chassis: 2U 19-inch rack-mountable unit (482.6 mm)
Features
Sample-rates 44,1 to 192 kHz
DigiLink I/O:
64 channels @ 44,1 to 96 kHz
32 channels @ 176,4 and 192 kHz
32 channels per port
Two Pro Tools systems can be connected
Up-to 8 cards can be installed in the MTRX
Max. no. of audio I/O channels per MTRX: 576"