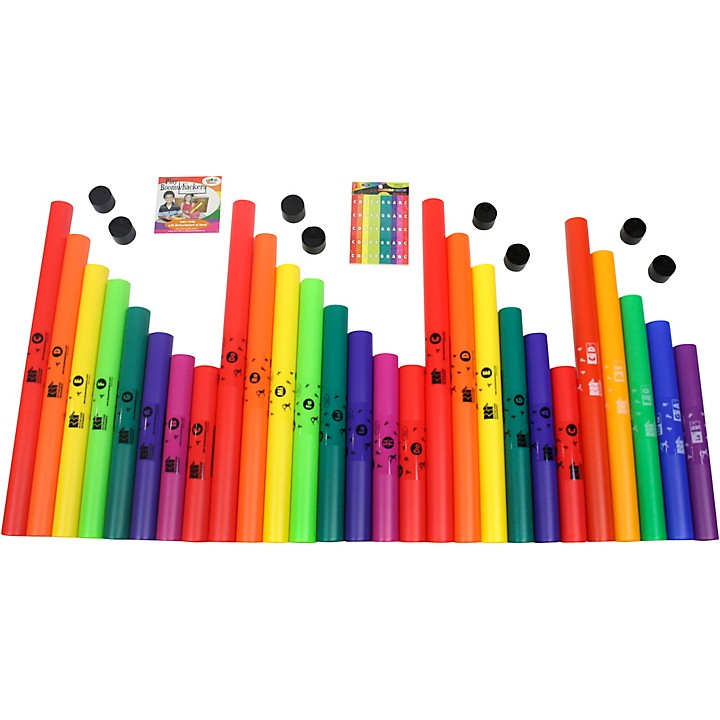 A fun, intelligent way to get your classroom in rhythm.
The 27 Tube Classroom Pack from Boomwhackers is the perfect tool for educators looking to get their whole class involved in music making. These colorful tubes come in a variety of lengths and pitches, each labeled with its musical note to make playing easy for students at any level. The set includes diatonic, chromatic and pentatonic sets for exploring different scales and chords. An included video provides interactive play-along activities, helping bring music theory to life in an exciting new way.


Color-Coded Tubes Make Music Accessible

With tubes color-coded to match the musical note each produces, the 27 Tube Classroom Pack allows students to start making music right away. The diatonic set includes the notes for a major scale, while the chromatic and pentatonic sets provide tones for different musical styles. Octavator tube caps let you change the pitch of each tube, doubling the possibilities. Stick-on labels for each tube reinforce note names and the relationships between pitches.


Video Play-Along Adds an Interactive Element

An included video from Fun Music Company provides interactive play-along activities for the classroom. Featuring demonstrations from professional musicians, the video shows students proper technique and different ways to create rhythms, melodies and harmonies with the tubes. QR codes in the video allow students to instantly bring up an activity, adding an engaging technological element to music lessons.


Recyclable Materials Make for an Eco-Friendly Choice

Boomwhackers are made from recyclable plastics, and even the product packaging is recyclable. The tubes themselves can be recycled up to 10 times, allowing for years of music making with a minimal environmental impact. As an added bonus, the included carry bag provides an easy way to store the tubes when not in use and transport them between locations.


A Fun Way to Foster a Lifelong Love of Music

With their bright colors and wide range of tones, Boomwhackers make learning about music fun and engaging for students of all ages. Perfect for use in music classes, after-school programs and more, the 27 Tube Classroom Pack provides an interactive experience that can spark a lifelong interest in music.


Features
Two 8-Note C Major Diatonic Sets (BWDG)
One 5-Note Chromatics Set (BWCG)
One 6-Note C Major Pentatonic Scale Set (BWPG)
One Set of 8 Octavator Tube Caps (OC8G)
One Set of Chroma-Notes Stick-Ons (CNS1)
One Play Boomwhackers Digital Download
Boomwhackers play reliably in all weather conditions and are stable to -180°F

Audio examples downloadable via included QR code