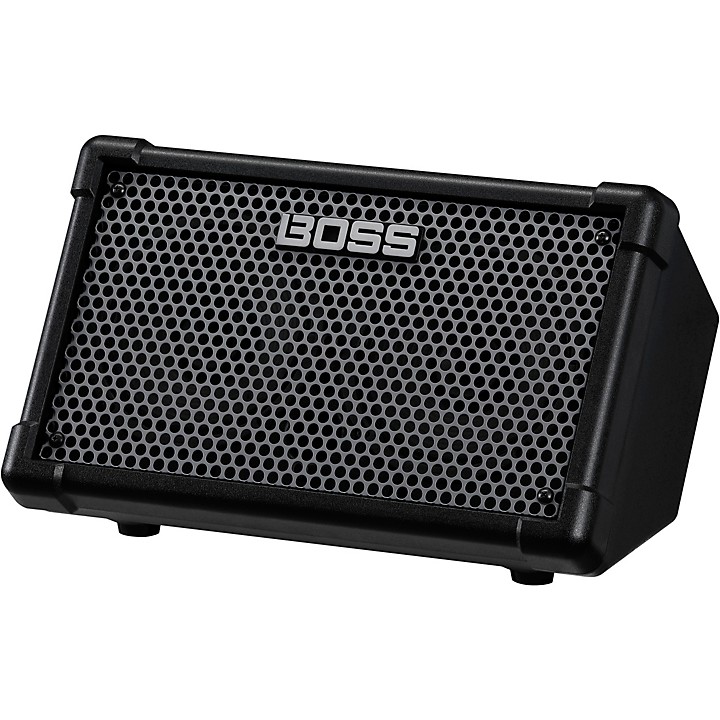 Battery-driven amplifier for mobile performance.
With the portable BOSS CUBE Street II by your side, you have the tools you need to deliver your message with confidence in any mobile setting, from musical performances on the street to public speaking events. Evolved from the best-selling Roland CUBE Street, this battery-driven powerhouse provides rich stereo sound for busking and other mobile gigs. Dual channels allow you to plug in mics and instruments, and sound great immediately, with no extra gear to carry around. Compared to its popular predecessor, CUBE Street II is even lighter and more durable thanks to its modern ABS injection-molded design. The output power has been doubled too, delivering 10 total watts of crisp and clean stereo sound to cut through any outside noise. In quieter situations where you don't need as much headroom, kicking in Eco mode reduces the power and extends battery life.

With two ultraversatile input channels, CUBE Street II supports all types of musicians and performers. The Mic/Instrument channel features a combo jack for either an XLR balanced mic or an instrument, such as a keyboard or Roland's Aerophone. Equipped with a standard 1/4" jack, the Guitar/Mic channel provides plug-and-play sound for guitarists with seven acoustic and electric amp types, as well as settings for a line-level instrument or unbalanced mic. Each channel provides dedicated three-band EQ and reverb, and there's a chorus/delay effect on the Guitar/Mic channel.

While designed with performing musicians in mind, CUBE Street II excels in any situation that requires high-quality sound. It's easy to move and sets up anywhere, making it perfect for speaking in presentations, workshops and school events. And with the ability to play music as well—either wired through the AUX input or wirelessly with the optional BT-DUAL adaptor—CUBE Street II is ideal for background entertainment and impromptu karaoke performances.

Features
Next-generation version of the top-selling mobile amp for street performers
First model in the CUBE Street series branded with the BOSS name
ABS injection-molded cabinet for increased durability and reduced weight (4.4 kg/9 lb. 12 oz.)
Enhanced power output: 10 watts total (5 watts x 2)
High-quality stereo sound with two high-performance 6.5-inch speakers
Angled face for optimum monitoring and sound projection
Mic/Instrument channel with harmony, three-band EQ and reverb
Guitar/Mic channel with nine amp types, three-band EQ, chorus/delay, reverb and tuner
Looper with up to 45 seconds of stereo recording time
Automatic harmony function with three modes: unison, high and higher
Record or livestream your audio performances to a computer or mobile device via USB or i-CUBE Link
Practice and jam with the CUBE JAM app for iOS
Runs on eight AA alkaline batteries or included AC adaptor