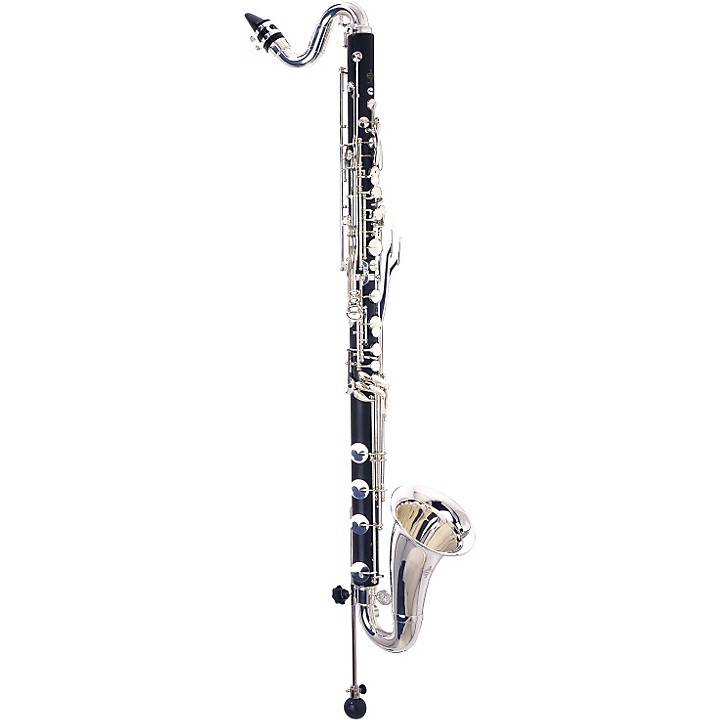 A powerful, professional-level bass clarinet with masterful tonal control.
The 1183 Prestige Low Eb Bass Clarinet from [brand name] is a premier instrument for the dedicated clarinetist. Featuring a professional-grade grenadilla wood body and silver-plated keywork, it produces a rich, resonant tone that blends beautifully with ensembles. You'll appreciate the 1183's innovative resonance keys, including an Eb/Ab lever and 2nd speaker key, which provide an extended range and enhanced tonal control. With durable, high-quality construction and premium accessories like a plush-lined case, the 1183 is built to deliver years of masterful performance.


Professional-Grade Materials Yield a Powerful, Nuanced Tone
The 1183's grenadilla wood body and silver-plated keywork are hallmarks of a premium, professional bass clarinet. Grenadilla wood is dense and resonant, producing a warm, nuanced tone with impressive projection. Silver-plated keys also enhance resonance and durability, reducing noise for a clear, focused sound. The result is an instrument eminently suited for ensemble playing, with a tone that blends beautifully yet still cuts through when needed.


Innovative Resonance Keys Provide Unparalleled Control
An Eb/Ab lever and 2nd speaker key give you masterful command over the 1183's tonal qualities. The Eb/Ab lever extends the range to low E-flat, enriching the lower register. A 2nd speaker key opens up the throat of the instrument for improved resonance and an airier tone in the clarion register. With these innovative keys at your disposal, you can shape your sound to suit any musical context.


Premium Build for Lasting Performance
The 1183 is constructed to deliver years of flawless performance. Its durable grenadilla body and nickel-silver keywork are resistant to cracks and scratches. Spring-loaded needle springs provide a fast, responsive key action, while leather pads ensure an airtight seal for seamless fingering. With premium build quality and an included plush-lined case, the 1183 is an investment that will reward you for years to come.


A Versatile Instrument for Diverse Applications
Equally at home in the concert band, symphony orchestra or chamber ensemble, the 1183 brings depth and color to any musical context. Its powerful yet nuanced tone suits the technical demands of classical performance, yet also adapts well to jazz and world music styles. For the dedicated clarinetist, the 1183 opens up a world of creative possibilities.

Order the 1183 Prestige Low Eb Bass Clarinet today.
Specifications
Level: Professional
Key: Bb
Neck: Two-piece
Body Material: High quality, unstained grenadilla
Range down to: Eb
Key Material: Silver-plate
Key System: Boehm
Tone Holes: Undercut
Includes: Jakob Winter case with backpack straps, mouthpiece, ligature, cap, and care products
Crafted In: France