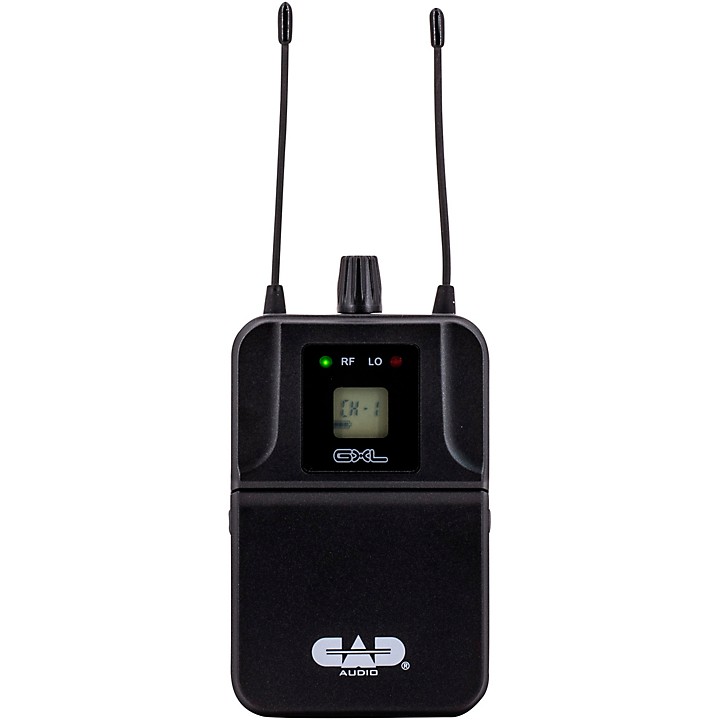 Bodypack receiver for use with GXLIEMBP In-Ear Monitor Systems.
The GXLIEMBP Bodypack from CAD is for use with the GXLIEM In-Ear Monitor System which transmits discrete mixes to performers with crystal clear accuracy. With near infinite bodypack receiver monitoring, this is an efficient solution when setting up multiple mixes with high bodypack receiver count. The GXLIEMBP Bodypack Receiver works as a replacement or as an additional receiver.
Specifications
Frequency response: 20Hz - 20KHz
Frequency band: T Band 902 - 928MHz
Dynamic range: >110dB
Channels: 16
Channel frequency: Agile
Transmitting power: 30mW
Displays: LCD
Receiver output: Line out and earphone out
Receiver power requirements: 2x AA alkaline or rechargeable battery
Receiver battery life: >10hrs
Receiver dimensions (LxWxH): 3.77" x 2.44" x 8.26"
Features
16 channel frequency agile performance
High dynamic range for outstanding fidelity
High contrast LCD display
Battery life indicator on Bodypack Receiver
Operates in 900 MHz band, free from TV and FCC regulatory issues
Advanced dipole antenna technology on the bodypack receiver for increased operating distance
All-metal transmitter chassis for shielded operation, 1/2U or 1U
AA battery life of >10Hrs of operation
Two-year manufacturer's warranty