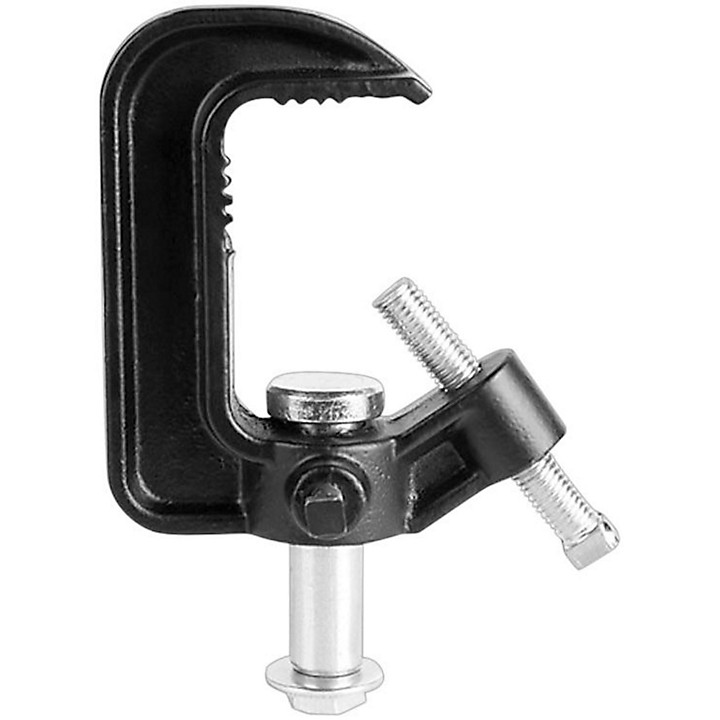 A robust clamp for demanding lighting jobs.
The CLP-05 Heavy-Duty C-Clamp from CHAUVET is built to securely support larger lighting fixtures during demanding jobs. Constructed from thick cast iron, this clamp can hold up to 110 lbs and attaches to truss piping ranging from 1 to 2.5" in diameter.


Withstands Heavy Use
The CLP-05 is designed for intensive use, thanks to its durable cast iron build. This material stands up well to repeated attachment and removal from truss, as well as the weight of larger lighting fixtures. You can rely on this clamp for securing equipment during touring, festivals and other high-impact events.


Fits a Wide Range of Truss Sizes
With an attachment range of 1 to 2.5", the CLP-05 provides versatility for different truss setups. This single clamp model can handle many of the pipe sizes you're likely to encounter, reducing the need to purchase multiple types of clamps for a single lighting job. The CLP-05 helps streamline your gear pack, saving space and hassle.


Pairs With Most CHAUVET Gear
Like most gear from CHAUVET, the CLP-05 is designed to integrate well with the company's other products. This heavy-duty clamp is compatible with most CHAUVET lighting fixtures, allowing you to securely mount your preferred luminaires for a seamless setup.


Essential Accessory for Demanding Jobs
When you need to mount substantial lighting equipment in challenging conditions, the CLP-05 provides essential support. This high-capacity, durable clamp gives you an attachment solution for bigger spotlights, moving heads and other gear that requires a sturdy mount. For demanding lighting jobs, the CLP-05 Heavy-Duty C-Clamp is a must-have accessory.

Order the CLP-05 Heavy-Duty C-Clamp today.
Features
Heavy-duty c-clamp fits most CHAUVET® products
Made of thick cast iron for extra durability
Load capacity: 110 lb (49.1 kg)
Fits: 1 to 2.5 inch (25 to 64 mm) truss
Weight: 2.2 lb (1 kg)
Size: 6.3 x 2.6 x 4.7 in (160 x 66 x 121 mm)