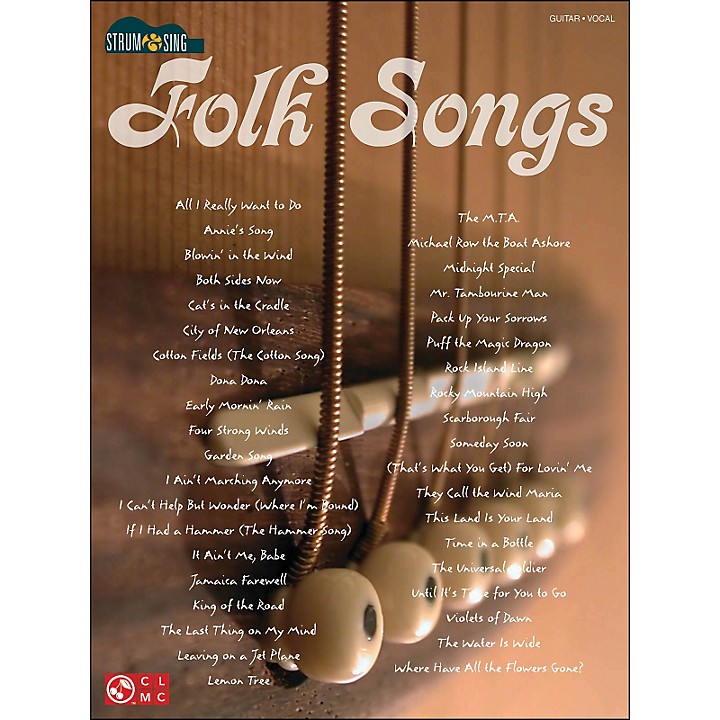 Just the chords and the lyrics.
This series provides an unplugged and pared-down approach to your favorite songs - just the chords and the lyrics, with nothing fancy. These easy-to-play arrangements are designed for both aspiring and professional musicians.
Features
Includes nearly 40 folk favorites:
All I Really Want to Do
Annie's Song
Blowin' in the Wind
Both Sides Now
Cat's in the Cradle
City of New Orleans
Cotton Fields (The Cotton Song)
Dona Dona
Early Mornin' Rain
Four Strong Winds
Garden Song
I Ain't Marching Anymore
I Can't Help But Wonder (Where I'm Bound)
If I Had a Hammer (The Hammer Song)
It Ain't Me, Babe
Jamaica Farewell
King of the Road
The Last Thing on My Mind
Leaving on a Jet Plane
Lemon Tree
The M.T.A.
Michael Row the Boat Ashore
Midnight Special
Mr. Tambourine Man
Pack Up Your Sorrows
Puff the Magic Dragon
Rock Island Line
Rocky Mountain High
Scarborough Fair
Someday Soon
(That's What You Get) For Lovin' Me
They Call the Wind Maria
This Land Is Your Land
Time in a Bottle
The Universal Soldier
Until It's Time for You to Go
Violets of Dawn
The Water Is Wide
Where Have All the Flowers Gone?