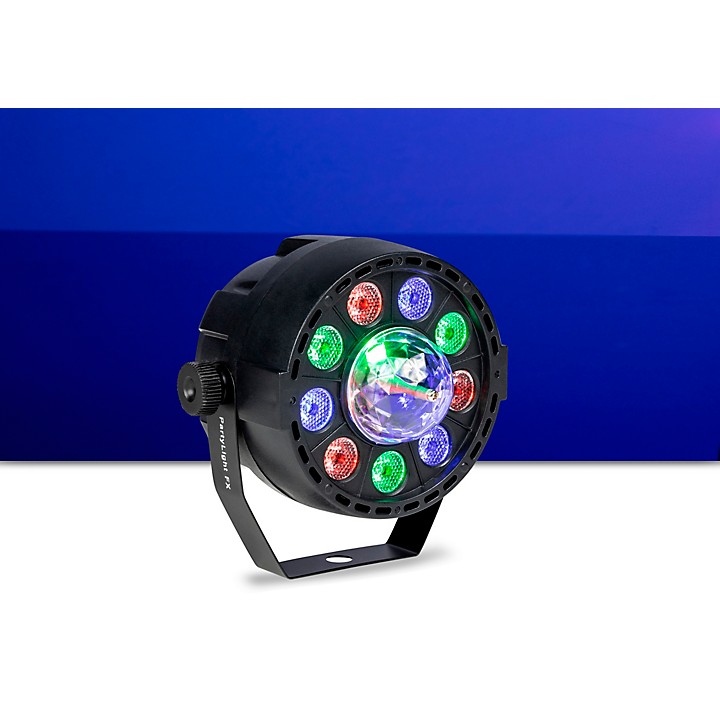 Colorful rotating party light a variety of patterns and programs.
Get your party started with the ColorKey PartyLight FX light. This compact quad color LED wash light features a motorized RBG party bulb that paints your walls with color while a rotating RGB bulb sends swirling beams of light across the room. Setup is a breeze when using the included IR remote. It offers quick access numerous built-in programs such as Auto, Chase, Fade and Sound Active mode. Quickly select a static color or one of the numerous patterns to create a fun energetic atmosphere at your next event. PartyLight FX is a great choice for both beginners and professionals and sets the vibe at house parties, events or at small bars and clubs. PartyLight FX also looks great on camera for live streamers or social media posts.
Specifications
9x1W RGB LEDs + 3pc RGB Ball
DMX Channel Modes: 8 channels
Control modes: DMX 512, IR Remote, Master /Slave, Sound Active, Stand Alone
0-100% Dimmer
Lamp rated life: >50000 Hours
Working temperature: up to 40˚C
Power consumption: 30W
Power supply: AC220-240V;50-60Hz
Product size: 4.1" x 4.1" x 4.8"
Weight: 2.1 lb.
Features
Quad color LED wash light with motorized RBG party bulb effect
Paint your walls with color while the rotating RGB bulb sends swirling beams of light across the room
Included IR remote offers quick selection of numerous auto-programs
Perfect for beginners or professionals with included 512DMX control
PartyLight FX also looks great on camera for live streamers or social media posts