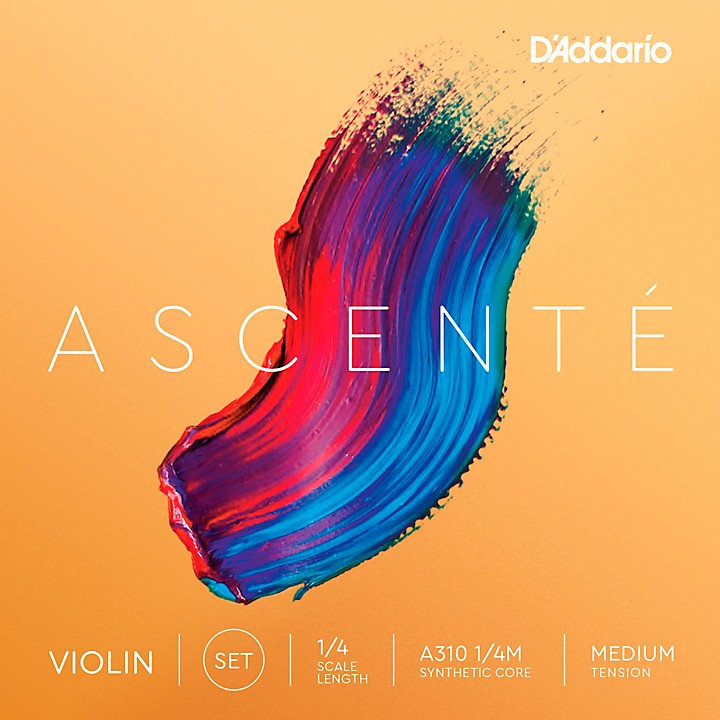 A set of synthetic violin strings designed for all players and levels.
The D'Addario A310 Ascente Violin String Set is crafted with a high-tech synthetic core. These strings are precision engineered to help violinists at every level achieve a warm, resonant tone and stellar pitch stability. The A310 Ascente set exhibits a fast break-in time and offers outstanding bow response for an elevated playing experience.

The synthetic core of the A310 Ascente strings provides a wider tonal range and longevity unmatched by traditional gut or steel violin strings. This innovative material helps violinists coax a more nuanced, complex tone from their instrument while maintaining pitch accuracy through extended practice sessions and performances. The A310 Ascente set is designed to help players advance their technique and musicality to the next level.

The A310 Ascente Violin String Set is built to withstand the rigors of frequent practice and performance. The synthetic core is highly resistant to stretching and warping, allowing these strings to stay in tune through repeated bowing and fingering. Violinists will appreciate the minimal tuning adjustments needed and the freedom to focus on their playing rather than fussing with pegs. The A310 Ascente set offers the best tuning stability of any synthetic core violin string available.

The A310 Ascente strings feature a balanced tension, combined with the slick surface of the synthetic core, provides a highly responsive string that reacts instantly to changes in bow speed, pressure, and position. Violinists will enjoy the level of control and articulation afforded by the A310 Ascente set, which allows for clean transitions, dynamic contrasts, and a clear distinction between legato and staccato.

D'Addario is dedicated to producing high-quality musical accessories and all A310 Ascente violin strings are designed, engineered, and manufactured in the USA using state-of-the-art equipment and stringent quality controls.