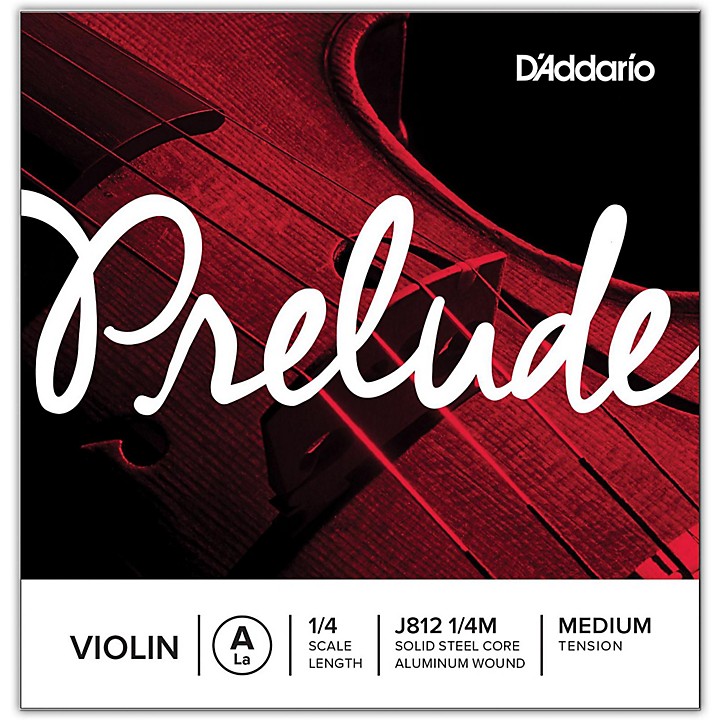 A violin string built to last.
The D'Addario Prelude Violin A String is designed for aspiring violinists looking for a durable yet tonally rich string. Featuring a solid steel core, the Prelude A String provides stability and longevity through changes in temperature and humidity. Its medium tension offers a comfortable feel with balanced tension for easy playability. Despite its affordability, the Prelude A String produces a surprisingly warm tone for a steel-core string that is ideal for beginners and students. Versatile enough for a range of genres from classical to rock, the Prelude A String helps violinists of all skill levels achieve an optimal blend of tone and value.


Solid Steel Core for Pitch Stability and Durability
The Prelude A String is built around a solid steel core that contains a pitch-stable alloy, allowing it to hold its tune through environmental changes. This robust core also provides the greatest longevity of any string material, giving you more playing time between replacements. The steel core's brightness is balanced by a warmer wrap, resulting in a tone that is rich yet focused.


Balanced Tension for Easy Playability
With a medium gage and tension, the Prelude A String offers a comfortable resistance under the bow and fingering on the frets. Its balanced tension facilitates an immediate response for smooth playing across all registers of the violin. The Prelude A String's gage and tension are tailored to the needs of most violinists, providing an accessible feel for developing proper technique and control.


Warm, Versatile Tone
Despite its steel core, the Prelude A String produces a surprisingly warm and resonant tone for its price point. This warmth gives it a natural quality suited for classical and acoustic playing styles. However, the Prelude A String also cuts through well in amplified settings, making it versatile enough for rock, jazz, bluegrass and other genres. Its rich tone and quick bow response inspire expressiveness in beginners and more advanced players alike.


Superior Quality at an Attainable Price
Like all D'Addario products, the Prelude A String is manufactured in the U. . using state-of-the-art machinery and stringent quality controls. Prelude violin strings provide violinists with the renowned D'Addario quality at an affordable price. For developing technique, exploring different musical styles or simply enjoying recreational playing, the Prelude A String gives you professional-level performance and value.

Order the D'Addario Prelude Violin A String today.