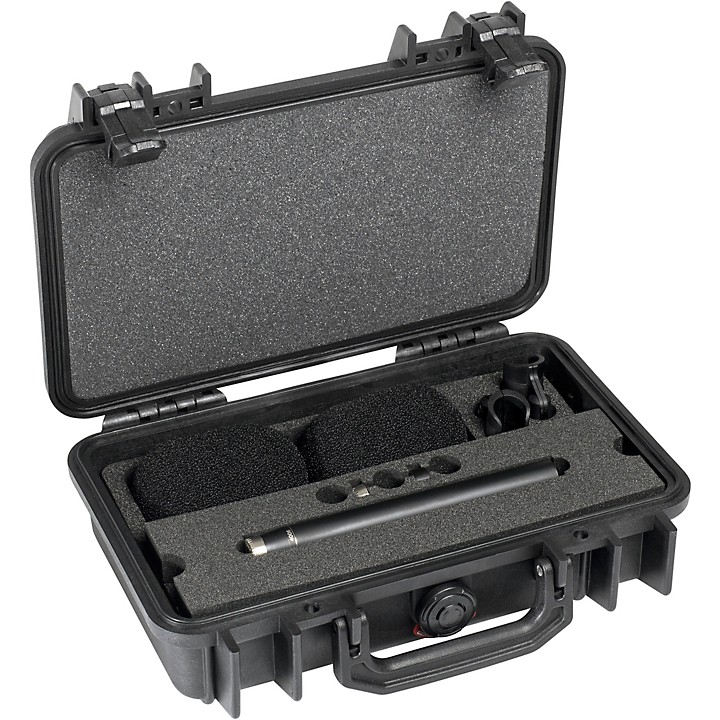 Stereo pair of condensers with a rugged Peli case.
For reference stereo recording, there is no better choice than a d:dicate 4006A Microphone. These omnidirectional condenser microphones are linear and true in character. They come as a hand-matched pair that offers the truest capture of stereo sound available.

Even though the standard tolerances on the d:dicate microphones are extremely low, a stereo match is even closer. These specially selected d:dicate 4006A microphones are matched within ±0.5 dB on both frequency response and sensitivity.

The MMC4006 Omnidirectional Microphone Capsule offers total transparency in any recording situation. It picks up incredible detail and depth of sound. The definition of its high-frequency characteristics across a wide range of instruments is impressive. It offers natural sound, high sensitivity, low noise-floor and extremely linear frequency response from 10 to 20 kHz (±2 dB).

The d:dicate 4006A Omnidirectional Microphone is a flexible solution. Engineers, broadcasters and musicians alike can achieve clean, natural and precise sound reproduction. This mic is ideal for A-B stereo pairs for symphonic concert hall recordings. It also excels on vocals, for close-miking all types of instruments and as an outdoor interview microphone.

A selection of optional accessories can be purchased, including acoustic pressure equalizers, a nose cone and interchangeable protection grids. These accessories can acoustically transform the mic. By changing grids, it is possible to gain several unique frequency responses and directional characteristics from the mic. Furthermore, these accessories will not produce any phase shift, noise or distortion that would otherwise be introduced by an electrical filter.

Specifications
Audio
Analog or digital: Analog
Frequency response: 10Hz – 20kHz
Max SPL: 146 dB
Connector: XLR
Pattern and Type
Capsule: Condenser
Polar pattern: Omni
Type: Mounted
Switches: Not specified
Phantom power required: Yes
Size and Weight
Diameter: .75 in.
Length: 6.7 in.
Weight: 5.7 oz.
Included Accessories
Case: Yes
Clip: Yes
Shockmount: Yes
Power supply: No
Cable: No
Stand: No
Features
Carefully matched microphones
Natural sound
High sensitivity
Low noise-floor
Sturdy Peli Case for transportation and protection