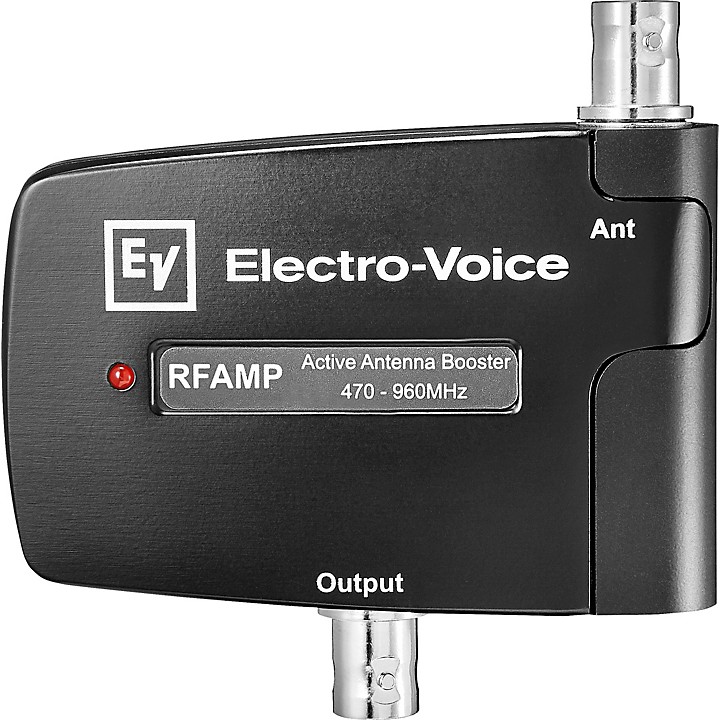 Active RF antenna booster,470-960MHz.
RFAMP is a 10dB RF amplifier module designed to function as an at-antenna RF amplifier to compensate for signal loss prior to a coax run, as well as an effective means of remote mounting the RE3-RX stock 1⁄2 wave receiver antenna when desired.

RFAMP requires 12v DC booster power which is supplied at the antenna jacks of either the RE3-RX receiver, or the AASP active antenna splitter. RFAMP can be mounted either to the supplied flange mount for installation deployments, or simply attached to a standard 5/8" x 27 threaded microphone stand.

RFAMP passes the 12v DC booster thru, so two modules can be used inline, or one RFAMP can be combined with the ALPA active log periodic antenna.
Specifications
Carrier frequency: 470 – 960 Mhz
RF connectors: BNC
Antenna gain: 1.8dBi
Booster gain: 10dB (±2dB)
Coverage angle: 360 degrees
Operating voltage: +8 to +12v DC
Usage: Indoor or outdoor (not waterproof)
Dimensions (length): 3.03" (77mm)
Dimensions (height): 2.07" (52.5mm)
Dimensions (depth): 0.7" (18mm)
Finish: Polyurethane paint, black
Net weight: 6.95 oz. (197 g)
Gross weight: 9.17 oz. (260 g)
Features
10dB RF booster amp module
Powered by RE3-RX or AASP 12v DC booster feed power
Mounts on supplied installation flange or onmicrophone stand
Passes booster feed thru for cascading up to two modules
Effectively remote-mounts stock ½ wave receiver antenna