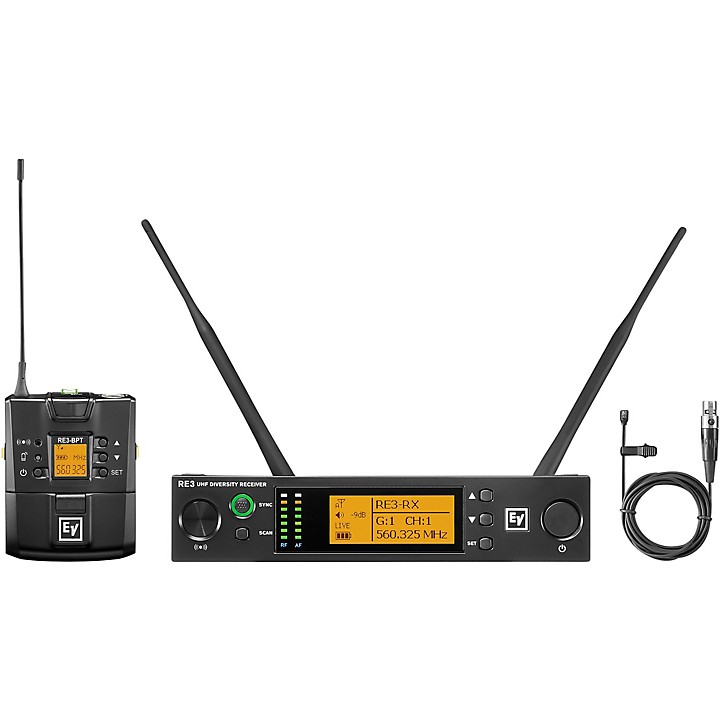 Lavalier, body pack and dual-antenna UHF receiver.
Electro-Voice's entry into the world of UHF wireless represents an excellent value for wireless customers who are seeking an inexpensive solution to their wireless presentations. Available in a wide variety of configurations, this is the Bodypack Set Omni Lavalier, equipped with the RE3-RX dual antenna receiver, the RE3-BPT body pack transmitter, and the RE3-ACC-OL3, an omnidirectional lavalier wireless microphone. This set is additionally equipped with the TA4F for attaching the lavalier to your lapel or other clothing.


The Receiver
The RE3-RX is a half-rack diversity receiver with dual antennas and a universal power supply. It comes complete with a rack-mounting kit, and both balanced XLR and unbalanced ¼" TRS outputs. It pairs perfectly with the included body pack or with the RE3-HHT Hand-Held transmitter, and features frequency scanning and syncing. The way the dual antenna system works minimizes the possibility of dropouts, as both antennas are constantly looking for a signal, and if one drops out, the other is already there to pick up the audio.

The Bodypack
The RE3 bodypack is made of cast magnesium and can easily absorb a tumble to the ground. It takes two AA batteries (alkaline or rechargeable are preferred). Five bodypack system sets are available for instrument and lavalier/headworn microphone applications: OL3, CL3 (lavalier), HW3 (headworn), GC3 (instrument cable) and one bodypack-only system. It is small and easily concealed, making it great for theatrical presentations.

Other cool features include The "ultrasonic sync," which simplifies operation by automatically syncing transmitter and receiver frequencies, and locking in other operations data.

A magnetic sliding latch mechanism keeps the battery door closed, and makes opening it easy to access the batteries.

The Microphone
This system comes with the RE-3-ACC-OL3, an omnidirectional microphone that is ideal for public speaking. Its polar pattern is perfect for auctioneers, business presenters, teachers, or anyone who needs hands-free vocal amplification in environments that don't have a large number of competing audio signals.

The RE3 serves three bandwidths within the North American market. The specific frequencies were chosen in order to minimize some of the complexities involved in modern RF. There are two 36 MHz-wide bands in the low and high 500 MHz spectrum, along with one that operates within the 600 MHz duplex gap that the FCC has dedicated for wireless microphone use.





Specifications
General
Dynamic range: 300'
Line of sight: 100'
Receiver
Bandwidth: Up to 36 MHz
Housing: Metal
Rackmountable: Yes
Width: 8.27"
Height: 1.73"
Depth: 6.1"
Weight: 2.71 lb.
Transmitter
Battery type: AA x 2
Battery runtime: 10 hours
Width: 2.0 in.
Height: 10.2 in.
Weight: 8.6 oz.
Microphone
Microphone Type: Self-biased condenser
Max SPL: 130 dB
Polar Pattern: Omnidirectional
Cable length: 57"
Length: .36"
Diameter: .2 mm
Weight: .617 oz.
Features
RE3-RX

Diversity reception minimizes dropouts
3 MHz tuning bandwidth for trouble-free operation
Easy-to-read LCD display
Frequency scanning for selecting open frequencies
Sync function links transmitter to receiver for easy setup

RE3-BPT

Robust metal bodySync function for easy frequency setup
Selectable low and high output power
Up to 36 MHz tuning bandwidth
Unique magnetic latch and lock for easy access to batteries

RE3-OCC-OL3

Small and unobtrusive low-profile design
Omnidirectional polar pattern delivers an open and natural sound
No proximity effect
Wide dynamic range and frequency response