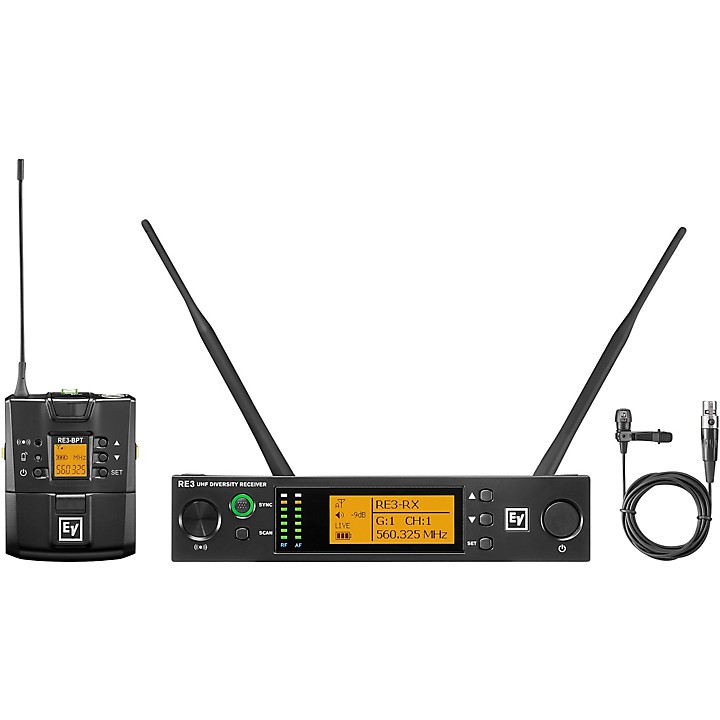 Wireless bodypack transmitter with cardioid lavalier microphone.
RE3-BP
The RE3-BPT is a small, lightweight yet robust UHF bodypack transmitter. It is easily worn and concealed, making it an ideal form factor for a wide variety of professional presentation and performance applications. From stand-up presentations, to theatrical and musical performances, to high-energy fitness and athletic situations, this sleek and rugged transmitter fits comfortably and accepts a wide variety of input devices.

The all-metal body is robust and durable, and operates on 2 AA alkaline or rechargeable NiMH cells. The 36 MHz tuning bandwidth affords generous frequency tuning options helping to avoid various sources of possible interference. The selectable 10mW or 50mW output power assists in overcoming the challenges of both long, or short, transmission ranges.

The unique magnetic sliding latch and lock mechanism keeps the battery door closed securely and makes opening to access the batteries effortless. The ultrasonic sync function makes for a simple system setup by syncing the transmitter to the receiver frequency tuning and other functional data. Recharging contacts provide for functional use with the optional BC2 charging station allowing the NiMH rechargeable cells within two bodypack transmitters to be charged without removal.

CL3
The CL3 is a robust, general-purpose lavalier microphone. It is ideal for presentation and public speaking where its full and accurate sonic characteristics, coupled with its feedback-rejecting cardioid polar pattern deliver a clear and intelligible voice.

The cardioid pattern provides acoustic isolation and gain before feedback in situations where the ambient sound reinforcement system volume might cause an omnidirectional lavalier to feed back. The small clothing clip attaches the microphone securely to clothing items or surfaces.

The included foam windscreen is effective in reducing wind noise. The 4- pin mini plug is compatible with all current Electro- Voice bodypack transmitters, as well as many other brands who use the 4-pin mini connector convention.
Specifications
Transmitter
Frequency oscillation mode: Phase-locked loop (PLL)
Band name: 5L
Tuning bandwidth: 36 MHz
Carrier frequency range: 488-524 MHz
Sync frequency: Ultrasonic
RF power output: Low 10mW / High 50mW
Display by: LCD + LED
Function controls: Power, mute, group, channel, frequency, sensitivity adjustment, input level attenuation, RF power, auto off, key lock.
RF stability: <±10kHz@Fc
Modulation frequency shift: Wideband FM ±48kHz deviation
Harmonic radiation: <-50dBc
Input jack: 4-pin mini jack
Battery: 2 x AA alkaline battery or NiMH rechargeable battery
Charging contacts: Yes
Microphone
Element type: Self-biased condenser
Frequency response: 100 Hz - 15 kHz
Polar pattern: Cardioid
Sensitivity: open circuit voltage. 1 kHz: 20 mV/Pascal (-34 dBV/PA)
Maximum SPL: 115 dB SPL
Impedance: 3700 ohms
Features
Transmitter
Robust metal body
36 MHz tuning bandwidth
Selectable 10mW and 50mW output power
Unique magnetic latch and lock for easy access to batteries
Sync function for easy frequency setupIdeal for general sound reinforcement and presentations
Microphone
Cardioid polar pattern rejects ambient sounds and increases gain before feedback
Delivers full and accurate sound
Wide dynamic range and frequency response
Clothing clip holds microphone securely and attaches easily to garments