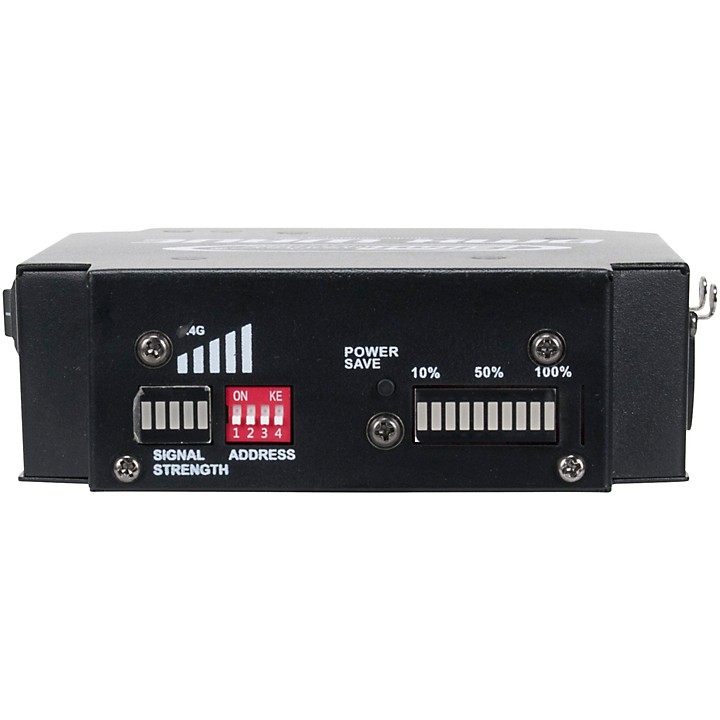 Onboard rechargeable battery with up to 20 hours of use.
This convenient product from Eliminator Lighting takes wireless DMX lighting to a different level with an onboard, rechargeable battery that delivers up to 20 hours of uninterrupted use on a single charge. The DMX Wave transceiver connects wirelessly with other DMX Wave units with a line-of-sight range of up to 2,500 ft.

The DMX Wave boasts a magnetic bottom surface for convenient, temporary mounting on metal surfaces. LED indicators on the side of the unit relay information quickly so you can easily monitor signal strength and battery life.

For more complex lighting setups, the DMX Wave is able to connect with and send signal to several other DMX Wave units using the same radio channel. When working as a receiver, the DMX Wave automatically listens for transmitters without the need for manual pairing.

With 2.4GHz wireless technology, the DMX Wave transceiver supports up to 16 DMX-512 universes. Dip switches allow selection from 16 different radio channels, with one DMX universe per channel.

Features
Battery-operated DMX transceiver; up to 20 hrs. of use
Compatible with DMX-512 protocol
Magnetic bottom plate for simple mounting on metal
Connects wirelessly with other DMX Wave units up to 2,500 ft. away
2.5GHz wireless technology