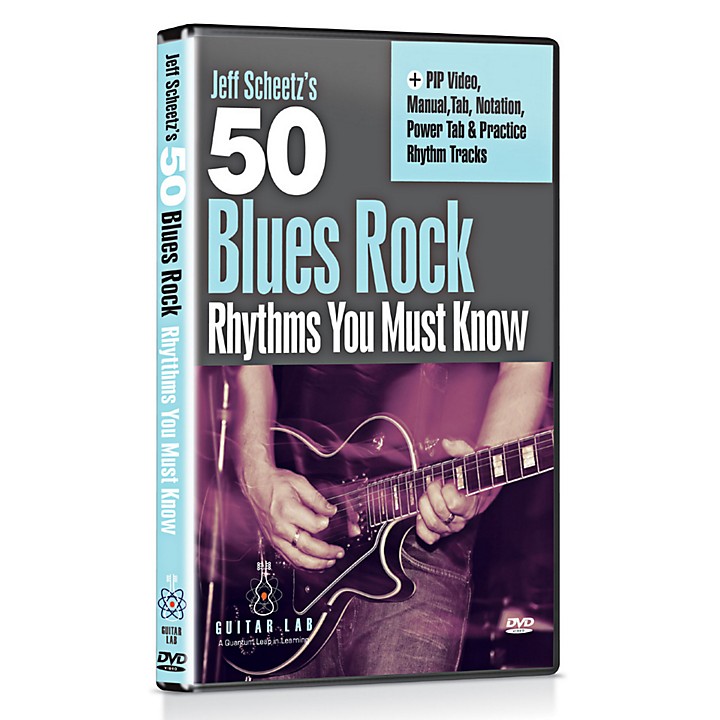 This instructional DVD covers licks, riffs and rhythmic patterns in the style of countless blues greats.
Most guitar players spend more time learning to play "lead" guitar than they do working on their rhythm chops. Whether you're a pro, a weekend warrior or just jam with your buds, you'll play far more rhythm guitar than lead, and have a much better chance of getting and keeping the gig if you can play great rhythms guitar. Top educator and blues-rock maestro Jeff Scheetz presents 50 Blues Rock Rhythms You Must Know!

50 Blues Rock Rhythm Licks You Must Know covers licks, riffs and rhythmic patterns in the style of Joe Bonamassa, Jimi Hendrix, Stevie Ray Vaughan, Jimmy Page, Eric Clapton, The Allman Brothers, Billy Gibbons, David Gilmour, Keith Richards, Eric Johnson, David Grissom, Robin Trower, Jeff Beck, Johnny Winter, Red Hot Chili Peppers, Van Halen and many other kings of the blues-rock six-string.

Guitar Lab's innovative learning systems employ a hands-on approach where students "play" their way through the curriculum using learning tools such as PIP video, practice rhythm tracks, and interactive tab and notation, which allows the student to play along with the tab and notation, at any tempo, without change in pitch.
Specifications
Running Time: 160 Minutes
Features
Text Lesson Guide
Standard Notation
Guitar Tab
Power Tab Files
Power Tab Software
Practice Rhythm Tracks
Bonus Material